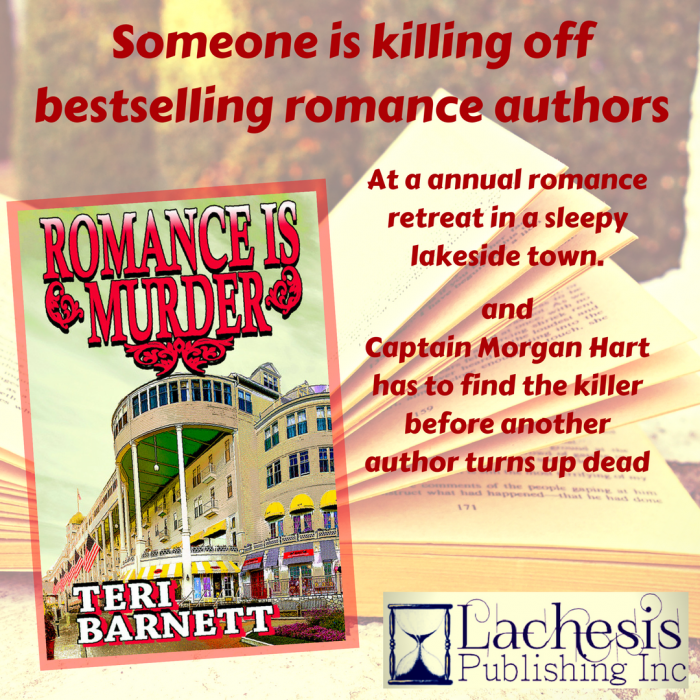 The Lachesis Publishing Book of the Week is our new release ROMANCE IS MURDER by Teri Barnett.
Where you can get it:
Lachesis Publishing (Only $0.99 cents for the month of November) 
What it's about:
Morgan Hart is home. The thirty-six-year-old former Detroit detective has just moved back to Bijoux, Michigan, the lakeside town where she grew up. Returning to take up the reins as the new police captain since her father, Able, retired, Morgan hopes for a fresh start and a welcome change from the gritty police work she did in the Big D. Morgan also hopes she'll be able to get her life back on track since her husband Ian Daniels, also a detective, was murdered on a case five years ago. Still unsolved, her husband's death haunts her even as she settles into her new role.
Morgan has mixed feelings about being back home in Bijoux. Her relationship with her dad is complicated, and the townspeople have no qualms about telling her how she should do her job. Her childhood nemesis, Connie Graham, a reporter for the local TV news station, always seems to show up at the worst possible time, and the owner of the local bookstore, Caleb Joseph, is far too attractive and far too nosy. At least she and her deputy, JJ Jones, get along and bond over their mutual love of cupcakes.
The quaint, old town has gone through quite a transformation since Morgan was there last. Quirky new shops are opening up to attract summer tourists. And many of the old stores along Main Street are getting a facelift. Even the historic Firefly Bed and Breakfast, is changing. It's hosting a romance writer's conference with some of the biggest names in the biz. But someone else is determined to make a few more changes. Deadly changes that will leave the town reeling and will have Morgan investigating the first murder in Bijoux in 100 years.
Connect with Teri Barnett via her website, facebook, twitter
Like our Lachesis Publishing page on facebook.
Follow Lachesis Publishing on twitter.