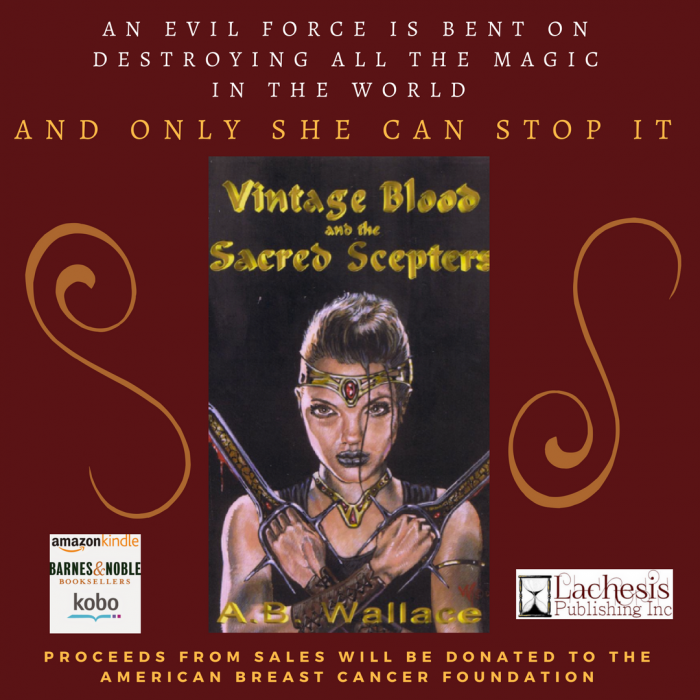 "Shapeshifters: Weretigers, Werevultures, Werewolves. Why write about them? Maybe, I was ONE in another place . . . another time." ~ the late A.B. Wallace
Our BOOK OF THE WEEK is the paranormal/shapeshifter mystery VINTAGE BLOOD AND THE SACRED SCEPTERS by A.B. Wallace.
Proceeds from sales of VINTAGE BLOOD have been donated to the American Breast Cancer Foundation (ABCF) since A.B. Wallace's passing from breast cancer, and will continue to be donated for the duration of this book's publication.
Purchase VINTAGE BLOOD AND THE SACRED SCEPTERS RIGHT HERE at Lachesis Publishing for .99 cents. Or you can also buy it at Amazon.com, Barnes and Noble, and Kobo.
"The American Breast Cancer Foundation's (ABCF) mission is to provide financial assistance for breast cancer screenings and diagnostic tests for uninsured and underserved individuals, regardless of age or gender." ~ ABCF
A.B. Wallace's paranormal mystery VINTAGE BLOOD AND THE SACRED SCEPTERS was released in 2004 by LBF books (now Lachesis Publishing). The book is available in both e-book formats and print format.
A.B. WALLACE was born in Italy but grew up in the United States. She studied Sociology at St. Peter's College, Jersey City, NJ, and worked as a Case Worker for the Hudson County Division of Welfare in Jersey City. She then held several administrative positions with the Federal Government in Washington DC. She made her home in Virginia with her beloved husband before she passed away from breast cancer.
"AB Wallace is perhaps one of the most gripping modern-day storytellers. If you are not reading Wallace you are missing out." ~ Diana Bennett ~ Midwest Book Review,
BRIEF SYNOPSIS:
Brit Chambers, a gutsy Werecreature Consultant, has taken on the job of discovering the means by which to destroy the Sacred Scepters before a werecreature assassin finds them and uses them to rid the world of magic. But she has another problem to rid herself of as well–she has become Lord Daison's personal blood bank thanks to her best friend, a weretiger.
Like our Lachesis Publishing page on facebook. Follow Lachesis Publishing on twitter.