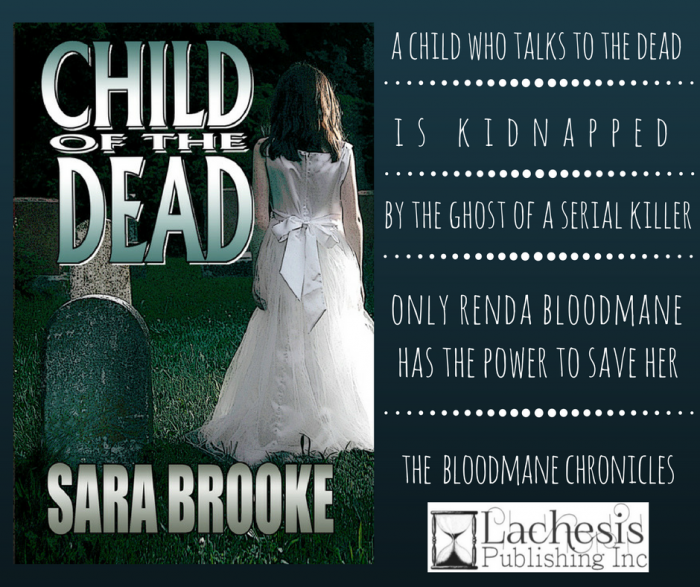 The Lachesis Publishing Book of the Week is CHILD OF THE DEAD by Sara Brooke. Book 2 in the Bloodmane Chronicles.
Get it today at Lachesis Publishing (all ebook formats) and print; amazon, kobo, barnes and noble, iBooks.
She is The Chosen.
Renda Bloodmane is not your average 29-year-old librarian. She sees dead people, battles demons, and her boyfriend is a ghost.
When a young girl is haunted by a powerful evil spirit, Renda is the only one who can save her. She must use everything she's got to protect the child. But there's more at stake in this dark battle, and this could be Renda's last chance to discover her true identity. She'll do whatever she can to save the Child of the Dead.
Sara Brooke is an Amazon bestselling author of horror, paranormal romance, and suspense fiction.
A lifelong avid reader of all things scary, Sara's childhood dream was to write books that make readers sleep with their lights on. She hopes that isn't too troubling for the thousands of readers worldwide who have purchased her books.
Sara resides in beautiful South Florida. She can be reached via her website at www.sarabrooke.com. Sara welcomes feedback and questions from readers.
You can get Sara's Lachesis Publishing release – The Awakening: Book 1 Bloodmane Chronicles at Lachesis Publishing, as well as amazon.com, barnes and noble, kobo, and iTunes.
You can Like Sara's facebook page  – called, The Bloodmane Chronicles . Connect with Sara on facebook, on twitter @SaraBrooke8, and on her website. Sara welcomes feedback and questions from readers.
Follow Lachesis Publishing on twitter and like our Lachesis Publishing facebook page.