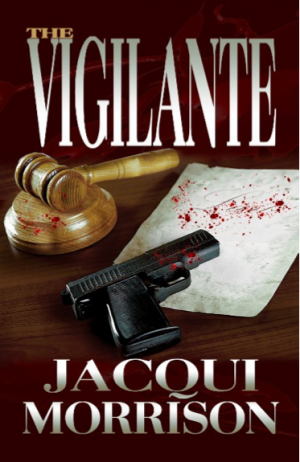 If the long-running Law & Order franchise ever spins off to Canada, The Vigilante would make a great template. Jacqui Morrison's book has the right balance of police and legal procedural with a good helping of character development and social commentary thrown in.
On the police side, we have Lynette Winton, her colleagues at work and her mother at home.
A rookie detective, Lynette is determined to prove herself. At first, however, Lynette seems to be a study in what not to do. When we find out her family situation, it's easier to understand her behaviour. She lives with her loving, but passive aggressive mother, who is so secretive about Lynette's biological father that any child would become obsessed with discovering the truth.
Lynette might be wrong about how she finds the truth, but find it she does. She arrests the suspect dismissed by her senior colleagues, while saving the life of the next intended victim.
On the legal side, we have defense lawyer Maxine Swayman.
Maxine is Lynette's opposite in more than the court case even to having a loving and supportive father. She is confident, charming, and has a sexy surgeon for a boyfriend. One thing both women share is determination. In this case, Maxine is determined that the accused, Wanda Chambers, gets the help she desperately needs.
It's on the legal side of the story that Morrison really shines. It's no surprise that the author's community work has given her experience with social justice and court procedures. My one disappointment is that she failed to mention the robes that barristers wear in Superior Court. Also, unlike the U.S. (and civil cases in Canada) the defendant is customarily addressed as "the accused." Those, and many more details that Morrison does touch on, highlight the differences we'd see in Law & Order CA as opposed to the US and UK varieties.
The guest star is, of course, the accused. There is no doubt that Wanda Chambers is guilty, the real question is whether the troubled woman will end up inside a prison or a hospital. And which one is justice? Through Lynette and Maxine, Morrison argues both sides of the case.
Since this is the first of a series, the personal story arcs have only just begun to unfold. The Vigilante's case, on the other hand, is settled more than satisfactorily. ~ Alison Bruce (suspense author)
Jacqui Morrison is a crime thriller author. Her suspense thrillers include Kaitlyn Wolfe: Crown Attorney and The Vigilante. You can purchase both books at Lachesis Publishing. But that's not where it begins and ends with Jacqui. You see, Jacqui works with victims and witnesses of crimes. Her passion for working in the law started at at a young age, when she was inspired by a character in a popular TV show . . . 
You can get The Vigilante. on amazon, barnes and noble, kobo. You can also purchase Kaitlyn Wolfe: Crown Attorney on amazon
Connect with author Jacqui Morrison online on her web site and on facebook and twitter.
Follow Lachesis Publishing on twitter and like our Lachesis Publishing facebook page.