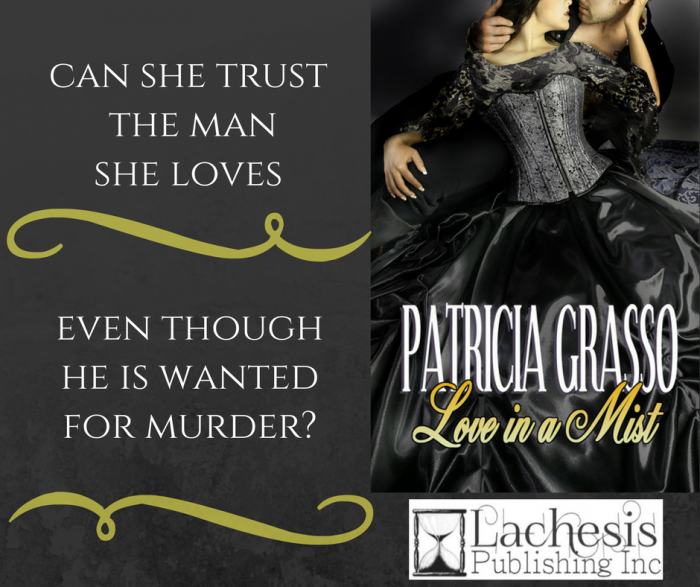 Our BOOK OF THE WEEK is the luscious and beautiful historical romance LOVE IN A MIST by Patricia Grasso.
All e-book formats available here! Click on this link to order.
WHAT IT'S ABOUT: 
"Trust the man who wears a flaming crown and possesses the golden touch. Beware the blacksmith."
Cast out of Wales after her mother's death, Keely Glendower travels to England to find her natural father, the Duke of Ludlow. She wears her magical dragon pendant and carries within her heart her mother's prophetic words. Though there is no love lost between the Welsh and the English, Keely cannot resist the heated gaze of Richard Devereux, England's wealthiest earl, the English queen's "Midas".
Despite, her eccentric ways, Richard is drawn to Keely. Just gazing at the raven-haired, violet-eyed beauty kindles a passion he's never known. Richard is a very determined man, but when a long buried secret is revealed, can the earl use his power to protect them or will his enemies destroy them both?
Patricia Grasso is the author of eighteen historical romances including the Douglas Series which follows the love stories of the amazing Douglas sisters (Angelica, Samantha and Victoria) in Regency London and the Lords of Stratford Series, Regency historical romances with a fairy-tale twist about the aristocratic families in Stratford-on-Avon. 
Patricia Grasso's latest release is LOVE IN A MIST (a re-release in the Devereaux Series). You can purchase it at Lachesis Publishing. You can also get it on amazon, BN nook, or kobo. 
Connect with Patricia Grasso online on her web site and on facebook
Like our Lachesis Publishing page on facebook.
Follow us on twitter.