Everyone has their own favorite romances, and everyone has their own favorite romance genres. For me, it's historical romance. There's something about reading a love story set in the past that adds a bit more fantasy and glamor. I've always been fascinated by history, not so much the political side, but the sociological side, learning how people actually lived long ago. The swish of silk petticoats, the flash of a steel blade, and the soft shadows of candlelight make my imagination run wild. I'm a pushover for a hunk in tight breeches and boots. Reading and writing about two people falling in love in a historical setting just seems to fit. So, in honor of Valentine's Day, I've decided to share five of my all-time favorite historical romances, and not in any particular order.
Pride and Prejudice by Jane Austen. How can you not fall in love with Mr. Darcy, the wealthy, handsome, shy and pompous, but ultimately honorable catch for all the single women of the neighborhood? The book wasn't written as a historical novel, so the language and social mores are contemporary to Austen (which also makes it a good research tool for writers). Lizzie's strength of character could make even twenty-first century women stand up and cheer. And Darcy's desire to protect her family's reputation despite their ditzyness and stupidity would make any woman melt. No wonder it's still so popular after two centuries.
Moonstruck Madness by Laurie McBain. Lady Sabrina Verrick turns highwayman in order to support her family and ensure that her younger brother grows up to inherit his Scottish title after they are forced to flee the British. But when she robs the devilishly handsome Lucien, Duke of Camareigh, she realizes she has twisted Satan's tail, for he won't rest until he's caught the thief. I liked that Sabrina is a woman who defies society's rules to fight for what she loves. And Lucien learns some valuable lessons from the sweet temptress who steals more than his jewels.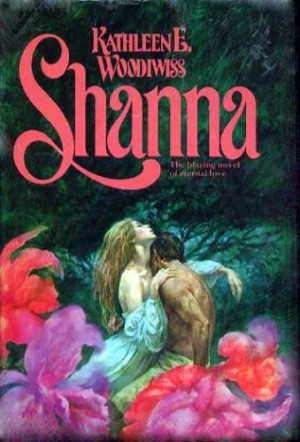 Shanna by Kathleen Woodiwiss. Although I loved Woodiwiss's The Flame and the Flower, I think Shanna is my favorite of all her novels. It's a tale of a bold young woman who weds a prisoner of Newgate in order to free herself from the dictates of her father: find an aristocrat to wed or he would find one for her. When she abandons the hunky convict Ruark to the gallows, she doesn't expect him to escape and come after her to demand his marital rights. The story starts in London, but most of the chase takes place on a Carribean island, and includes swashbuckling pirates, tropical seas, and sultry nights. Oh my!
Silk and Shadows by MaryJo Putney. Mysterious, devastatingly handsome, incredibly wealthy Peregrine (whose real name is Mikhail) has come to London from an exotic land to seek revenge for a wrong done to him twenty-five years ago when he was a boy of ten. I loved this hero from the first page. Lady Sara St. James, already betrothed, is part of his plan, for the man to whom she is promised is Peregine's mark. But Sara is no retiring young miss, for she is intelligent and educated and older than most single women looking to marry. Her high principles and Peregrine's lack of them in his pursuit for revenge make for a rousing, sensuous read.
Highland Velvet by Jude Devereaux. Nineteen-year-old Bronwyn MacArran is the leader of her Scottish clan. When she is promised to a stranger by the English king, he is four days late for the wedding, so she sets her sights on another handsome face. But the knight Stephen Montgomery, her intended, doesn't like losing what he's been promised, so he jousts for her and wins, only to have Bronwyn hate him for winning, for being English, . . . and for being a man. It's the Scots against the English, both out on the moors and in the bedroom, with a dash of intrigue and underhanded conniving thrown in. I loved Bronwyn's feistiness, and Stephen is an honorable medieval knight to die for.
There are so many great historical romances out there, and fabulous authors who write them, like Eileen Dryer, Shana Abé, Laura Kinsale, Judith McNaught, Karen Robards, Hannah Howell, Laura Navarre, Patricia Grasso, Loretta Chase, and Joanna Shupe, just to name a few. I had a really hard time narrowing down my list to just five, so I went back to my keeper shelf, where I put books before the Kindle was even a spark in Amazon's eye, and before Jeff Bezos came up with the idea to sell books online. Even before there was the internet. But some stories are timeless.
Here's a disclaimer: Some of these roguish heroes aren't politically correct. Except for P&P, the romances were written during the late seventies, eighties, and early nineties, when romance readers had different expectations. So if you pick up one of these stories, keep that in mind. And get lost in the passions of the past. Happy reading!
Patricia Barletta writes historical romance with paranormal elements. Her first release with Lachesis Publishing is MOON DARK and it's the first in a new and exciting series called the AURIANO CURSE SERIES. You can buy it here at Lachesis Publishing or on amazon, kobo, Barnes and Noble.
Find out more about Patricia Barletta and her books on her website: www.patriciabarletta.com.
Connect with Patricia Barletta on facebook: Patricia Barletta on facebook
Like our Lachesis Publishing page on facebook.
Follow Lachesis Publishing on twitter.