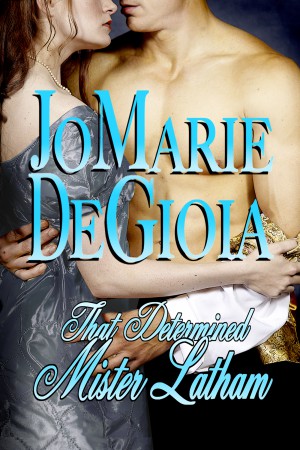 We are starting a new feature at the Lachesis Publishing Blog – BOOK OF THE WEEK! Our first BOOK OF THE WEEK is the brand new release: THAT DETERMINED MISTER LATHAM by JoMarie DeGioia. It's the first book in a brand new series called Shopgirls of Bond Street. We know you are going to LOVE it!
YOU CAN READ AN EXCLUSIVE EXCERPT – CHAPTERS 1 to 6 -RIGHT HERE! 
THE STORY:
The sign above the door of Elliot's Fineries on Bond Street states: Where you can find your heart's desire.
Patrick Latham scoffs at that notion. He let go of those dreams five years ago when the woman he loved betrayed him. But when he meets the shop owner's niece, Victoria Elliot, he wonders if his heart's desire is indeed inside that very shop. Though Victoria is a "shopgirl" and certainly not a member of the ton, she is the most beguilingly beautiful and spirited young woman Patrick has ever met. He is determined to get to know the auburn-haired, silver-eyed beauty, even if it means buying every damn pair of riding gloves at Elliot's Fineries!
Victoria went from sheltered vicar's daughter to shopgirl in the blink of an eye. When she meets Patrick, she is immediately drawn to his darkly handsome looks and his charming appeal. But life for a shopgirl can be unfair, even cruel, and when a great danger lurks just around the corner from Elliot's Fineries, can she trust Patrick to keep her safe?
Patrick keeps a truth from Victoria—that he's the son of a powerful earl as well as a baron in his own right. Will his lie put Victoria at greater risk? And if so, how will he able to save her?
READ CHAPTERS 1 to 6 -RIGHT HERE! 
You can get JoMarie DeGioia's books right here at Lachesis Publishing, or on Amazon, Nook, Kobo and Itunes.
Connect with JoMarie DeGioia online on her web site and on facebook and on twitter.
Follow Lachesis Publishing on twitter and like our facebook page.