By day I'm a mild-mannered writer of science fiction and horror. By night, I operate the Mayall 4-meter telescope and the WIYN 3.5-meter telescope at Kitt Peak National Observatory outside Tucson, Arizona. These two telescopes have contributed greatly to our understanding of the universe. They've played a role in the discovery of dark matter, the large scale structure of the universe, dark energy, planets outside the solar system and much more. Working with these telescopes has also done much to inspire my writing.
For many years, I specialized in observations of spotted binary stars. Spotted, in this case means that they have spots, like sunspots, only much larger. In some cases the spots can take up over a third of the star's surface. Binary means that two stars orbit each other. These are very active, violent stars and I visit such a system in the opening scenes of Children of the Old Stars.
I've spent many nights at Kitt Peak pointing telescopes at globular clusters. These are great spherical clouds of ancient stars that orbit our galaxy. In fact, the "old star" part of my "Old Star/New Earth" series gets its name from these stellar groups, which in my novels prove to be the home of an ancient and powerful life form. The series's overall storyline was inspired by taking one of the deepest images of our galaxy's center and imagining a way for humans to get there and see it firsthand.
Before working at Kitt Peak, I spent a summer working at the Maria Mitchell Observatory on Nantucket Island, off the Massachusetts coast. Nantucket was once the center of the American whaling industry and is home to many proud, old families. What's more, the novel Moby-Dick opens on Nantucket Island. When I imagined a character who would sail off into the unknown frontiers surrounding our galaxy and at its heart, I immediately looked to a man born and bred from a long line of Nantucket sailors and you'll find the island featured prominently in The Pirates of Sufiro, Children of the Old Stars, and Heirs of the New Earth.
Not only does work at an observatory inspire my science fiction, but it has a way of inspiring my horror as well. At one time, one of my co-workers used to joke that those of us who operate telescopes were the vampires of the mountain because you never saw us before sunset or after sunrise. She was also a fan of vampire fiction who introduced me to Bram Stoker's Dracula and Anne Rice's Interview With the Vampire. Because of that, I began to ask what if a telescope operator really was a vampire? That line of questioning led me on the path to writing my novels Vampires of the Scarlet Order and Dragon's Fall: Rise of the Scarlet Order.
Lest you think vampires are the scariest thing you might encounter at an observatory, we do have our share of ghost stories. There are tales of the rocking chair in the 4-meter lounge that rocks all by itself. Last winter police reported getting a 911 call from the observatory. When the telescope operator on duty checked the number, it came from inside a locked, empty elevator. Just a month ago, the breaker to the kitchen tripped mysteriously. The breaker is located in one of the spookiest hallways in the building, where I often feel someone is walking right behind me. Now, all of these stories actually have rational explanations, but the shivers these tales induce helped me to create The Astronomer's Crypt, the first of a horror series that I have written for Lachesis Publishing.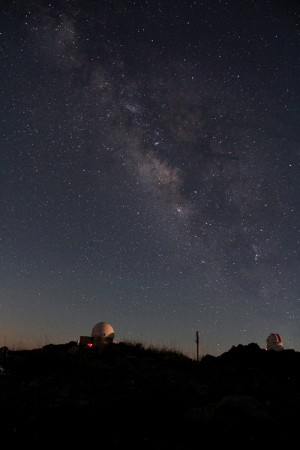 Writing is a passion and a calling for me, but I'm grateful for my career in astronomy. Even if I were to leave it, I've seen wonders and had experiences that will inspire many books to come.
You can purchase David Lee Summers's books at Lachesis Publishing, on amazon, Barnes and Noble, kobo, and iBooks.
Connect with David Lee Summers. online via facebook and twitter, and check out his web site.
Like our Lachesis Publishing page on facebook.
Follow Lachesis Publishing on twitter.