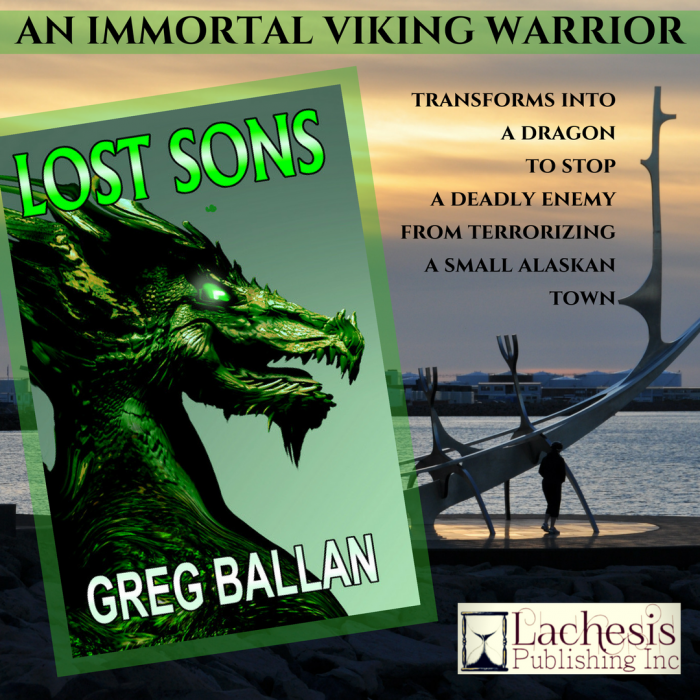 THE BOOK OF THE WEEK is the science fiction/suspense thriller LOST SONS by Lachesis Publishing author, Greg Ballan (Book 1 in the LOST SONS series). 
GET IT FOR $0.99 CENTS! ONLY AT LACHESIS PUBLISHING!
CLICK HERE TO PURCHASE at LACHESIS PUBLISHING.
You can also get LOST SONS  at amazon.com, Barnes and Noble, and kobo.
What it's about:
He's an immortal drifter
Duncan Kord has travelled the world for many lifetimes. The thousand-year old Viking warrior was given immortality by an advanced race of beings who literally snatched him from the brink of death on a battlefield in Norway centuries ago. Not only did they save him, they infused his body and mind with the essence of a powerful dragon. Despite his powers, Kord has lived the life of a recluse, keeping mostly to himself, wandering the world, guarding his secrets. Kord's life changes when he discovers the invader responsible for killing his wife and family and destroying his village all those years ago, is alive and well, and living in New York. Kord is determined to confront Sagahr and after so many lost centuries, he now has one purpose: revenge.
He's an evil corporate mogul
William Jefferson Sagahr has amassed a fortune over many lifetimes. Now living in Manhattan, the powerful magnate is head of a multi-national oil company. The thousand-year-old mercenary warrior was also given immortality and special powers by the same beings who gifted Kord. But Sagahr is nothing like Kord. In fact, he was the one responsible for destroying Kord's life all those centuries ago. When Sagahr finds out that Kord is alive and well and wreaking havoc on Sagahr's oil refineries in Alaska, his fury knows no bounds and a twisted hunger begins to grow inside him. He unleashes an evil in the city of New York, the likes of which no one has ever seen. After so many lost centuries, he knows there is only one man who can stop him. One man he must avoid at all cost: Duncan Kord.
To read some of Greg's musings visit his writing page on facebook, for several short stories and pithy takes on yard work and homelife.
Like our Lachesis Publishing page on facebook.
Follow Lachesis Publishing on twitter.