I love checking out an author's website to read about upcoming events and more importantly new books. One of my favourite romance authors is New York Times and USA Today bestselling author Eve Langlais. I happened to be looking at her site last month and imagine my surprise when I found out about a local romance conference happening in my own backyard!  The event, "Romancing the Capital" was described as "Swag, Prizes, Fun Events, Interesting Panels, A Book Signing, along with plenty of smiles and laughter!" I am an avid romance reader, but I have never attended a romance genre event or conference.  I could already feel the excitement and who could say no to meeting authors, winning prizes, and learning more about a genre you already love… Not I.
Sadly, I was too late as the conference was sold out.  But being the go getter that I am, I decided to take a chance and e-mailed Eve Langlais directly to see if there were hidden tickets or a way I could volunteer. Unfortunately, there were no tickets or volunteer positions but she connected me with the RTC Facebook group where I found an individual who could not attend and was nice enough to sell me their tickets.
Apparently, Eve Langlais, who is a local Ottawa author, not only writes steamy romances but she throws one heck of an event!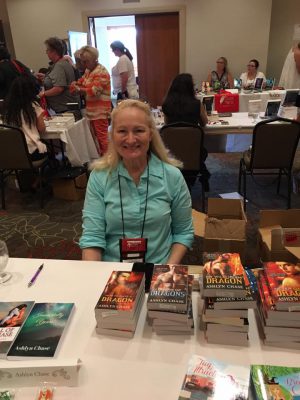 Romancing the Capital 2017!
Romancing the Capital is a writer/reader conference which was held August 3rd to the 5th 2017 in Ottawa at the Holiday Inn Hotel and Suites Ottawa Kanata. Organized by Eve Langlais, this is the conference's 3rd year and features an impressive line up of NY Times, USA Today & Amazon bestselling authors as well as new and upcoming talent.  Attending authors are from both Canada and the US, and represent the many facets of romance from historical, mystery to paranormal, LGBTQ & erotica- there is literally something for everyone.  While reading the schedule I even noticed that Lachesis Publishing own Ashlyn Chase  – who I met but totally forgot to get a picture with but will next year, was also an attending author.
The conference offers two types of tickets, meals, and non-meal and reader registration include, a registration bag stuffed with goodies,  access to all 50+ panels and events, as well as  coffee and pastries Friday & Saturday morning. The price is exceptionally low in comparison to most conferences and with the amount of swag – including some free books, it is well worth it.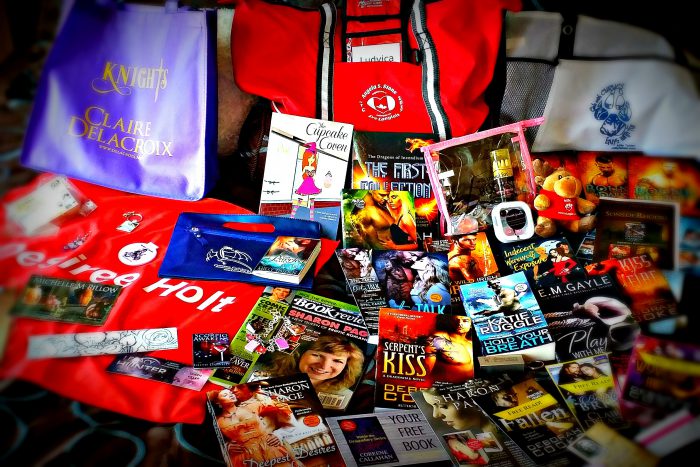 The conference started Thursday afternoon with publishing and writing panels for aspiring, advanced /published authors but readers were also welcomed.   One of my favorite workshops was given by Deborah Cooke "I wrote a Book. Now What? Steps to Publishing", which was very informative and gave you the opportunity to ask questions from a well known, long time bestselling author.
For the more advanced there were panels that focused on the business aspects of the publishing industry. One workshop titled "Indie, Publisher, and Hybrid: What's the best Choice?" featured advice from authors Nathan Burgoine, Milly Taiden, Deborah Cooke, Elle James.
Friday Panels had authors who wrote in the various sub genres within in romance and gave attendees a taste of the type of books that are in that category. One of my favorites was Dirty Talk with Opal (Carew) and Sharon (Page).   Not only did I win a penis shaped lipstick in my favorite shade or red, I also won a copy of Sharon Page's novel Deepest Desires of a Wicked Duke! (And she autographed it for me.)
Other panels were "Romance that goes back in time", "Exploring LGBTQ Romance", "Bad Boy Athletes and Bikers".  If there was something you didn't know about the romance genre, I'm sure it was covered here.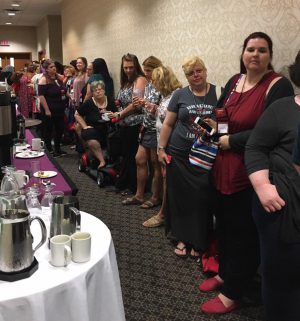 If listening to a panel was not your thing there were also crafts and game rooms where you could hang out, have fun and win more stuff!! One unique workshop was given by Viola Grace called "Get Bento".  In the workshop participants were given bento box sets as a gift and got a chance to make treats with her and chat. The "Goat Yoga with Pastries' & Coffee" with Felicity Kates and Anne Lang was something I am sad to say I missed. But if on the schedule next year, I'm there.
Each evening ended with a themed costume ball. There was a Heroes Vs Villains ball and a Fairy Tale Monster Bash where you could win great prizes for the best costumes and shake your booty to the DJ's set.   If you were looking for a quieter evening, there was also an author hosted room with games and prizes.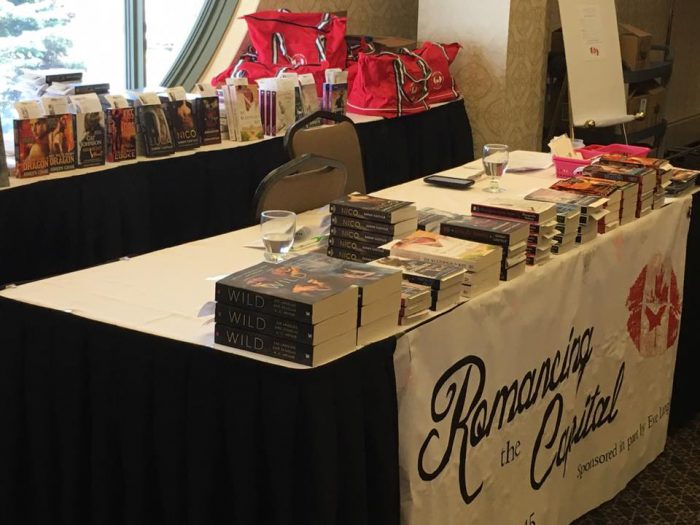 Saturday featured a book signing in the afternoon, which was also open to the public. There was an option to buy books from the authors as well as a mobile Chapters station were select books were being sold.
3 Days of Fun, Laughter & Friendship!
RTC 2017 was a well-organized, author accessible event where authors were happy to talk, take photos, answer questions, or to just have a good laugh with! I was incredibly humbled at how generous some of these authors were, with their time and the giveaways.  Like other attendees, I came home with bags full of books, charms, and jewelry, t-shirts, water bottles and other fun swag.
I had a great time discovering new authors and titles and also connecting with members of the local Ottawa Romance Writers Association (ORWA). I also met an aspiring author who happens to be my neighbor who I learned lived down the street from me in a home once owned by my childhood friend. Talk about six degrees of separation!
Although I was not able to attend the over 50+ workshops and panels, from speaking with other participants, everyone seemed to agree, there were no bad options.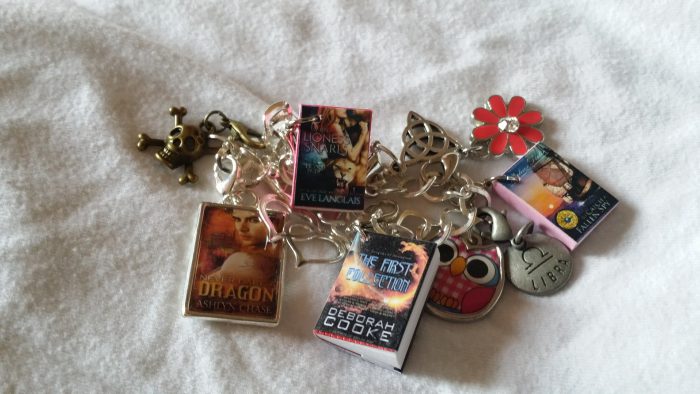 Thinking about attending next year?
Book Early! This event sells out quickly. As per the Facebook post earlier and the RTC 2018 site, Meal tickets are sold out, but non-meal tickets are still available so stop reading this and go get one!
Connect with the Facebook group. Joining the group will keep you up to date not only on conference details but keep you connected with other attendees. Also if you couldn't get a ticket, check the Facebook group because as they say "life happens" and someone might need to sell their ticket.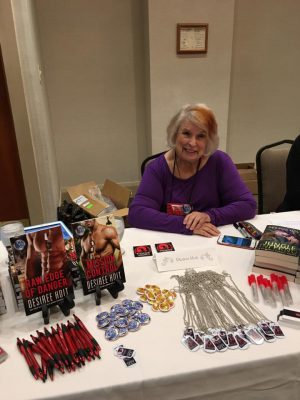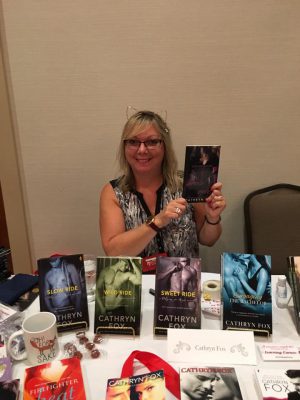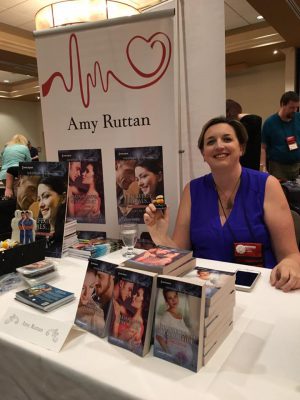 Attend everything you can. Like I said, there are no bad options and there is so much to do, see and learn.  Try it all!
Bring cash to the book signing. Check the Facebook page and the RTC 2018 site, but this year cash was the acceptable form of currency. Even the Chapters Mobile site only accepted cash.
Don't Be Shy! Everyone is there fun and authors seemed more than willing to stop for pictures, chat, and Milly Taiden gave me a hug!
The format will be slightly different. There will be a dinner and themed ball on Friday night and the event will end Saturday afternoon after the book signing.
I hope to see you there!
When: August 2nd, 3rd, and 4th, 2018
Where: Holiday Inn & Suites Ottawa/Kanata
Who's Attending: Fantastic authors including several New York Times, USA Today and Amazon BestSellers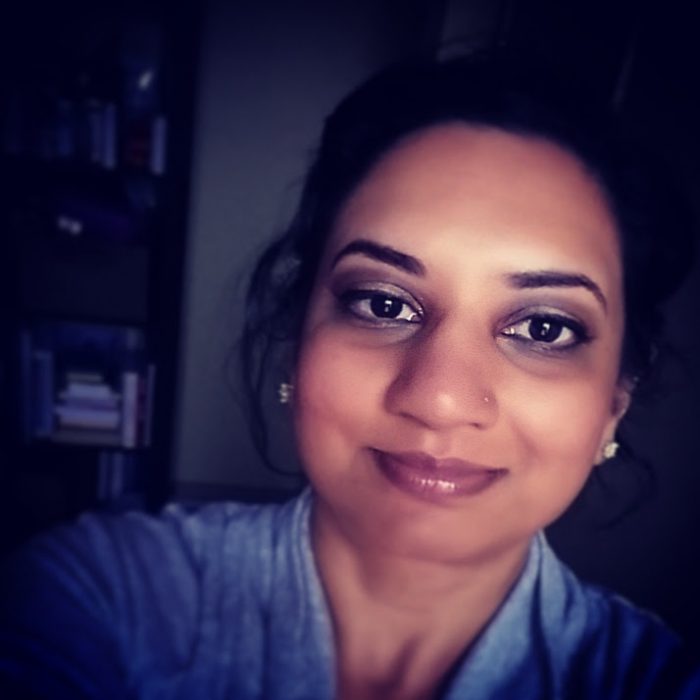 Ludvica Boota is currently in the publishing program at Ryerson University and is an intern at Lachesis Publishing Inc. Prior to her studies, she worked in the public, private and not-for-profit sectors. Her most adventurous experience was working for the Coombe Women and Infants University Hospital in Dublin Ireland, where she was employed as a project officer but was never asked to deliver a baby. Ludvica holds an MBA from the University of Victoria and a B.Com from Carleton University.
When she's not daydreaming about her next travel adventure, and perhaps her own HEA, she is usually immersed in a romance novel.
Connect with Ludvica on Facebook  / Instagram / Twitter  / LinkenIn