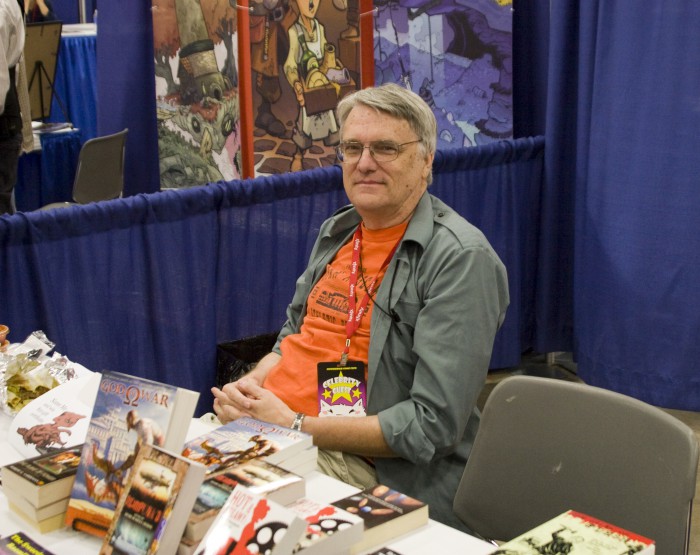 Robert E. Vardeman is the author of more than 100 fantasy and science fiction novels, as well as numerous westerns under various pen names (Jackson Lowry, Karl Lassiter). He's written gaming tie-in novels such as Dark Legacy for the Magic: The Gathering series and he wrote the Star Trek novels
The Klingon Gambit and Mutiny on the Enterprise.  He was nominated for the prestigious Hugo Award in 1972 and he named Albuquerque's science fiction convention Bubonicon.  The convention is named because even to this day, there are occasional cases of Bubonic Plague in the area.  Fortunately, it's easily treated by modern antibiotics!
Not only has Bob Vardeman succeeded with traditional, mainstream publishing but he has a long track record of working with small presses and even self-publishing.  His short story collection Stories from Desert Bob's Reptile Ranch which spans more than thirty years of writing was published by Popcorn Press. I've been honored to be featured in a few anthologies with him, including the forthcoming Straight Outta Tombstone anthology from Baen Books.
Bob is a longtime resident of Albuquerque, New Mexico, who graduated from the University of New Mexico with a B.S. in physics and an M.S. in materials engineering. He worked for Sandia National Laboratories in the Solid State Physics Research Department before becoming a full time writer.  I caught up with Bob at this year's Bubonicon in Albuquerque.
DLS: As I understand, you started out working in the Solid State Physics Research Department at Sandia National Labs before becoming a writer. How has your background in physics and materials science influenced your writing?
REV: While we call it science fiction, what we enjoy most is actually technology fiction–how science affects our lives (and our characters' lives).  Science moves so fast these days, other than trying to avoid simple mistakes, what I learned back in the days of yore is outdated.  Bell's Inequality, which changed so much, came 15 years after I quit working at Sandia.  Nano tech meant ICs then. Hubble and soon Webb space telescopes open the universe to dark matter and energy.  I read about new discoveries but mostly I don't understand them.  Instead, I try to put it all into a technology framework and figure out what the effect will be on our lives.
DLS: How did you get started writing? When you started writing for fanzines, did you have an idea that you wanted to be a professional author?
REV: I'm one of the exceptions to the "I always wanted to write" rule.  I never did.  I wanted to be a nuclear physicist and more or less ended up there, though X-rays and RTGs were as close as I got.  I had a few months between quitting Sandia and going to UC Berkeley where I had been accepted to work on a PhD (in ceramic engineering) when I visited my good buddy Geo. Proctor.  Geo. was a reporter for the Dallas Morning News, had a couple novels and short stories printed and had always wanted to be a writer.  He suggested we coauthor a story.  Why not?  We did, it sold. (and we never got paid–the magazine folded before publication).  Over the years this story sold twice more with the same result.  Ironically, the title of the story was "A Killing In the Market."  I enjoyed the process, wrote a fantasy proposal and sent it out.  It sold.  I was faced with finishing the book or going to Berkeley, so I postponed school by a half year.  In that time I sold two more novels and decided this was more fun than designing materials for rocket throat liners.  As it turned out, this was a good decision on another front.  The prof who would have been my adviser died of cancer 2 years after I would have begun.  Such a tragedy easily could have derailed my dissertation, research and career.
DLS: You've written under several pseudonyms including Karl Lassiter and Jackson Lowry for westerns, your science fiction has appeared under your own name as well as F.J. Hale and Edward S. Hudson, and I could go on.  Authors often build brands around their names.  Why have so many pseudonyms?  What kind of work do you put into building a brand for each new pseudonym?
REV: The sf pen names came about to keep from competing with myself.  One month I had three titles, out, two fantasy and an sf book.  Publishers loathe such self-competition.  The shift in western pen name from Karl Lassiter to Jackson Lowry came about for the same reason.  When I switched publishers, the new one insisted on a different name to keep from supposed promotion of titles from a competing publisher.  In a way, this was good.  Lassiter did more epic, long form novels while Lowry does short stories, lighter westerns and weird westerns.
DLS: Not only do you have several pseudonyms, but you've run the gamut from publishing with New York houses to publishing with small presses to self-publishing.  Why work with such a range of publishers?
REV: It took me a while to figure out that I would be terrible doing repetitive assembly line work.  After a few minutes, I'd be changing how Part A fitted into Part B.  Keeping with one genre (and publisher) is like that.  New challenges, new ideas, "what if" always beckons and not necessarily in the same field.  I am prolific and varied ideas flow constantly (I am aware of the difference between constant and continuous, alas–the ideas flow constantly).  It takes a lot of ink and electrons to keep up.
DLS: Tell us about the Empires of Steam and Rust series. I thought this was an especially innovative approach to self-publishing where several authors write in a single world and help each other market their works.  How can we learn more about the books in the series?
REV: Shared worlds aren't too uncommon, but I decided on a different approach.  The basic steampunk framework could be applied in myriad ways–all suggesting myriad authors could contribute.  The idea of "holes" into a world consumed by rust gave a world lacking in oxygen and the possibility of invasion from (and into) it.  Rather than being the editor for all this, I let trusted authors use the framework to tell stories in their own way and bring their readers to the world.  Hopefully that story interests their readers to look at other writers working in the same framework.  Each author is responsible for story, editing, publishing, cover, marketing, everything.  And the individual author collects 100% of the revenue from their own work.  No charge for use of the world.  Entries so far have been strong and interesting and varied.  I look forward to writing more myself in the world and hope other authors ask if they might join the fun (send me an email to inquire).
DLS: Your career started before we'd heard of things like Twitter and Facebook.  How has the world of book marketing changed now that social media has come on the scene?  How do you fold social media into your own book marketing campaigns?
REV: I coined the term VIPub a few years ago. Vertically Integrated Publishing.  Indie authors have to do it all, think up the idea, write the story, edit it, get a cover, publish and promote. It all rests on the author's shoulders.  This is overwhelming if you try to do whatever is currently hot in social media since it is a moving target and changes in 6 months (or less).  In a talk David Morrell said 10% of a writer's time ought to be spent on promotion.  The question arises as to how to allocate that time.  From all the possibilities, I say pick three that interest you most.  Twitter or Facebook or blogs or Instagram or…whatever else is out there.  I have a website I update periodically (www.cenotaphroad.com) and an online store (www.robertevardeman.com).  I do post fun stuff on facebook every day and link it with Twitter.  I have let blog writing lag since I can't do it all.  One element that is the author's and no one else's is a mailing list.  Self-selected fans are the greatest.  (Sign up for mine via my website or online store)  I only send out the n/l when a new book is available or other publishing info comes to light.  I don't like getting inundated so hold down frequency to make each one special (and give special offers of free books, etc)
DLS: What can we look forward to in the coming months from Robert E. Vardeman, or your other identities for that matter?
REV: One novella I am especially excited about is "Jupiter Convergence" in the new anthology Rockets Red Glare.    A weird western short story, "The Sixth World", is forthcoming in the Baen anthology Straight Outta Tombstone.  The final volume in a Jackson Lowry weird western trilogy, Punished, is due out in November (#3: Bayou Voodoo joins #1: Undead and #2: Navajo Witches).  I am returning to work on an sf book with a different take on first contact and have a major project mapped out set on the moons of Jupiter.  And when I get a chance, I have a really strange detective novel in synopsis.  Final mention is one of my pen names, Dana Fox.  Burning Man Anomaly is joined by a 3-author follow-up Aztec Automaton Anomaly with a 3rd title being sketched out now set in a haunted 1930's Texas luxury hotel slated for release in 2017.
Connect with Robert E Vardeman online via his website, on facebook and on Twitter.
Connect with David Lee Summers. online via facebook and twitter, and check out his web site.
Like our Lachesis Publishing page on facebook.
Follow Lachesis Publishing on twitter.