Authors need to promote their books. Some of us blog, others tweet, and just about every author has a website. But social media with its emojis and memes is a visual thing. One way to visually promote a book is with a book trailer, which can be described as turning the blurb of a book into film. When my paranormal historical romance, MOON DARK, was about to be published, I decided I wanted a book trailer made to help promote it. I discovered Jaye Rochon of Immortal Creative and Circle of Seven, who did a fabulous job. The final product was magical, and I wanted to find out more about Jaye and her process. Welcome, Jaye!
PB: Tell us how you got started in creating book trailers and why?
JR: I worked in a corporate environment at an international cable TV network in marketing, advertising and creative services before the concept of book trailers crossed my path. So my experience in promotional videos began with an audience of 80+ million viewers on a daily basis! It was an amazing training ground for high quality, deadline-driven production skills.
But one thing about TV networks is that the on-air promotions can be a bit formulaic at times. Once you develop your branding for a show, it can stay pretty much the same year after year until the network decides to re-brand its entire look.
It taught me a lot about branding and I'm grateful for that. But it started to feel like working in a video factory. So I pursued more creative projects in my free time because diversity is key to success and satisfaction as an artist.
Eventually, I simply met the right people at the right time and the freelance work was enough to support me without the day job. I saw a need for high quality book trailers in the publishing world, and also, as a voracious reader, it was a natural fit to marry video production and literature.
PB: Did you study fine arts or graphic design in school or did you learn on your own?
JR: Most of what I've learned has come from working alongside my peers in television and film (many are Emmy award-winning producers, directors, designers and editors).
I was incredibly fortunate to begin as a receptionist and advance into copy-writing then beyond into creative by pitching ideas to executives above me who liked what I had to say. (I am like Mad Men's Peggy Olsen, I swear!)
The technical skills I've learned have been a combination of job training and insatiable curiosity.  I am a bit addicted to online tutorials.
A lot of this job also requires the kind of savvy that can't be 100% taught – it is innate. Gut instinct, the ability to understand an artist's brand and voice, a passion for pop culture… that's mostly intuition.
I also tend to watch a lot of opening titles sequences and commercials to keep up with the latest audio-visual techniques and reader/viewer trends. Book trailers are a lot more than software and assets. It's an understanding of what grabs attention and elicits a powerful viewer/reader response: I MUST read/watch/listen/know more!
Just like the best writers are always reading, the prolific creative freelancer is always absorbing, watching, researching every aspect of the entertainment industry and learning audience trends. I am constantly in school.
PB: Do you work independently or are you affiliated with a design group?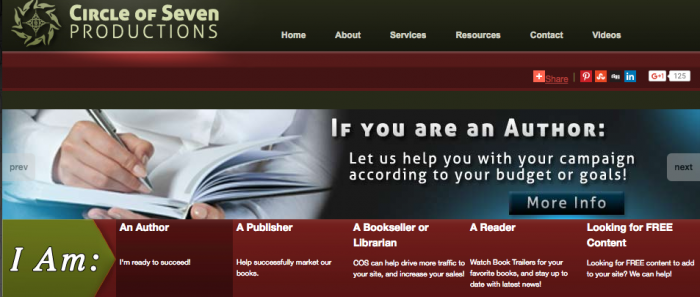 JR: I work independently in all areas of creative services: design, consulting, marketing and advertising as Immortal Creative, but my go-to production partners for book trailers are Circle of Seven (COS) Productions. They know the kind of work that I do particularly well, align me with the right clients/projects and everything is just magical and wildly creative. Sheila English and I met at a convention ten years ago and the rest was kismet.
PB: Tell us about your process. How do you go from a blank computer screen to a book trailer?
JR: It's all about the author. Every book is so unique. The ideas form visually and conceptually from the characters and world-building in the writing. It happens organically as I read, and my biggest goal in a book trailer is to do what the best writers do: show, don't tell.
With Moon Dark, the story was drenched in atmosphere from page one. It was so tangibly lush and darkly magical, I just had this feeling of mists and cloaks and velvety seduction running all through me as I read it. Also, Venice, Italy is such a glorious setting, it's a dream come true to be creative with history and paranormal romance in a "bucket list" city like Venice!
So once I get those gut feelings from the book, script ideas organically take shape. Every so often, really specific shots or visuals hit me before the script and I write backwards – base the writing on an actual specific storyboard. But I usually plan out a very general storyboard in my mind along with the script before I begin any video editing.
One thing I remember about the Moon Dark script was that at first, I had written Venice into it like its own character. Now, Venice is indeed the kind of city that really is an intriguing character, but you helped me refine that after the first draft and we kept it more visual rather than reflected in the copy – as I said above: show, don't tell, right? You helped me stick to that rule when we collaborated on the script and I thank you, because it worked!
The music also has an enormous hand in the pacing and dynamics of the video. I would say the music is just as important as the script. I remember I was watching the historical, somewhat-paranormal romance TV show Reign whilst working on Moon Dark, and the way they incorporate modern music into the historical settings keeps everything really fresh. So I think that show inspired my music selection for Moon Dark – I wanted something with a bit of modern rock mixed into the classical music, and it really did give the trailer a unique voice and sensual drive.
The rest is all like a mad scientist in a video editing laboratory: blend this texture and that texture, try this font and that font, overlay, overlay, overlay… It's alive, alive, aliiiiive! It is pretty common to see about 20+ layers in my project files. It is moving, layered artwork, not just stock and text.
Why are book trailers important in your opinion?
JR: Video in general is the #1 most effective way to get people on social media to notice you. It's actually beginning to surpass the popularity of photos and pictures or memes. It's a great way to make people feel the impact of your book in very little time and illicit a gut reaction: I must read this book B it looks amazing.
It can also attract TV and film producers to literally see that your book would make a fantastic series or movie. Writers have been producing short pitch videos for decades, and those little teasers often seal the deal for a producer when it comes down to a close race between two screenplays with the same potential. Typically, the one with the pitch video gets green-lit. Book trailers are a lot like that too B with readers, with TV networks, with film producers B it makes an author and that book stand out above his or her competitors.
Book trailers can also help you promote your book on blogs, in ads and out there in social media above and beyond flat images and words. It is dynamic content and it's powerful because it elevates the author's ability to touch a potential reader's senses and make that reader remember your book above the others on their discovery lists.
Who are some of your clients and what kind of trailers did you do for them?
Tor Books and Sourcebooks are my biggest clients (through COS Productions). Those are mainly young adult fantasy and science fiction book trailers, which I love. I also love paranormal and historical romance, and have done some beautiful trailers for independent authors in those genres.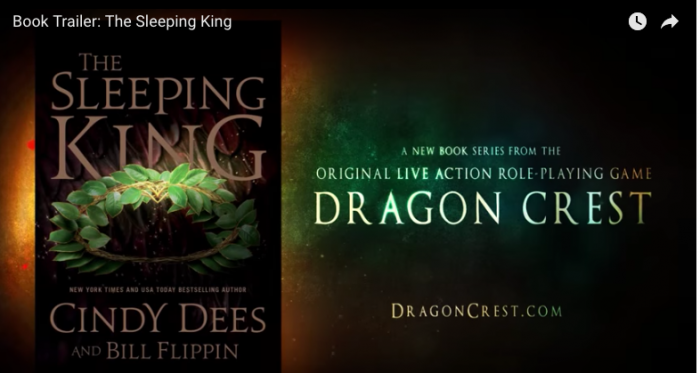 Some authors create their own trailers. Why should they hire a professional designer?
The same reason one would hire a professional cover artist and a professional editor: we have knowledge and experience in what makes a viewer respond to your trailer in a way that generates interest and boosts sales.
There's also much to consider from a technical standpoint like viewer habits (tune in/tune out rates), pacing of promotional copy, the correct licensing of music and imagery and how to distribute the video and use it for ads.
Some authors have worked in design and/or marketing and could figure out the basics with a consumer-grade video editor and do a decent enough job on their own. But just like with a cheap looking book cover or template-y looking website, you have to be really careful because first impressions are everything. Book trailers require a variety of professional skills. Let the professionals do their job so you have more time to do yours: write amazing books!
PB: What have you just finished that will be out soon?
JR: I just finished an animated dark fantasy book trailer for Sarah Porter's Vassa in the Night and some fun and unique personality vignettes for one of her characters in the book named Erg, a magical doll. It should be out the week of September 20th when the book hits stores.
PB: Share with us a few of your Oscar-worthy golden moments –toot your own horn about some of your accomplishments that you're really proud of.
JR: I'm really proud of an opening animated sequence I did for a cheesy-fun SyFy Network monster movie called Red Clover. You can also hear me singing in the movie's musical score. Funny enough, my friend and the director of that film, Drew Daywalt, wound up becoming a #1 Bestselling Author of the children's book, The Day the Crayons Quit  about a year later. It's like we were both meant to work in publishing and wild monsters couldn't drag us away!
I also did a book trailer for legendary literary editor Ellen Datlow's book, The Doll Collection which premiered in George R.R. Martin's Jean Cocteau movie theater.
My book trailer for NYT Bestselling Author Veronica Rossi's novel Riders was featured on the Entertainment Weekly website.
My book trailer for The Sleeping King received a Pixie Award last year and I've also won some Telly and Davey Awards in my career.
I was the official TVGuide.com blogger for Ghost Whisperer, Masters of Horror and The L Word…
Those are some stand-out moments for sure…
PB: How much do you charge for a trailer? Do you offer other services B like book covers or formatting?
JR: I consider myself a Creative Services Director more than anything, because I develop branding campaigns as multi-tiered entities. My favorite thing to do is create full author packages with a website, cover art, social branding, book trailers, display/video ads and merchandise/promo materials (bookmarks, postcards, t-shirts, etc.) all at the same time with a consistent aesthetic from the ground-up. It's how we did it with the big networks and ad agencies in corporate, so that's followed me into freelancing.
I did try formatting for a while, but it made me miserable so I stopped.
My rates are all deeply personal, because everybody's creative and career objectives are so unique. Most companies that have set quotes or pricing are working with templates, so they can pretty easily predict how long it will take and develop a simple, three-tiered pricing structure. I quote 100% on the author's needs, and no two projects are ever alike. I can tell you this, though: I offer corporate level quality and experience at cottage industry pricing.
PB: Who are a few of your favorite authors? What do you enjoy reading?
JR: I love fantasy and paranormal everything, as well as horror. Steampunk is wonderful. I love historical fiction and all varieties of romance. I also love young adult novels when I need to read something with a little less intensity, but all of the addiction. I try to diversify as much as possible and revisit/rediscover the classics. But mostly, I gravitate towards magic and fantasy. I've been that way since grade school.
PB: Bonus: When you're working on designing a trailer what is your go-to snack?
JR: Ha! Hmm… probably popcorn, it's like the munching action makes my creativity flow better? Yeah, let's go with that. I love this stuff out of Wisconsin called Palo Popcorn. It's so addictive, you just wouldn't believe it. I only indulge in that when deadlines get particularly intense. But on a daily basis, I cannot live without Earl Grey tea. A little bit of milk and Stevia and I'm a happy caffeinated creatrix!
PB: Thank you, Jaye!
Connect with Jaye Rochon on twitter @immortaljaye or contact Jaye via her website.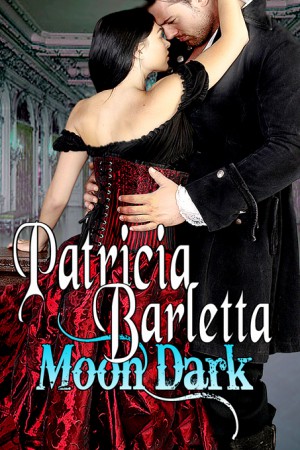 Patricia Barletta writes historical romance with paranormal elements. Her first release with Lachesis Publishing is MOON DARK and it's the first in a new and exciting series called the AURIANO CURSE SERIES. You can buy it here at Lachesis Publishing or on amazon, kobo, Barnes and Noble.
Find out more about Patricia Barletta and her books on her website: www.patriciabarletta.com.
Connect with Patricia Barletta on facebook: Patricia Barletta on facebook
Like our Lachesis Publishing page on facebook.
Follow Lachesis Publishing on twitter.