Patricia McLinn is a USA Today bestselling author of more than 30 books that include mystery, romance, and westerns She began her novel writing career with Silhouette Books (Harlequin) and was nominated for and won several writing awards, but her career really took off when she decided to go indie. She made the decision to go indie well before the explosion of indie publishing began. 
Before becoming a full time author, Patricia was an editor at the Washington Post for 23 years and a journalist for several years before that. She has a degree in English Composition and a Masters in Journalism from Northwestern University . A truly impressive resume.
LP: You began as a traditionally published author and now you self-publish exclusively. Tell us how that came about?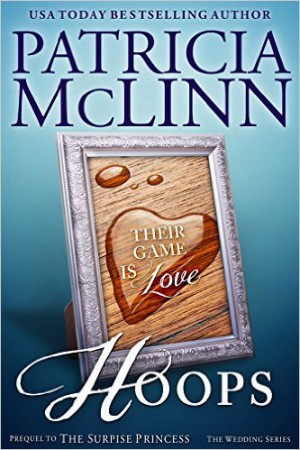 PM: My traditional career was so up and down that it would be banned as unsafe if it were a carnival ride. With one publisher I had about 32 editors for 25 books – hard to get any continuity or rhythm going. Some of those editors said I was "pushing the envelope." Huh? What envelope? Where? I never got that.
I became increasingly frustrated with editorial limitations and poor decisions on scheduling, titles, marketing. I did encounter some outstanding editors. Frequently their hands were tied by the hierarchy. The upshot for me and many authors was having our careers ill-served.
Well before there was anything to do with them, I was getting rights back to my previously published books. No matter what, I figured I'd be happier with the rights in my hands.
In 2006 I remember thinking ebooks were going to pop sometime, some way. No idea when or how, but I was on the lookout. By 2008 I had ebooks available online, expanding to the major retailers in 2011.
An unexpected and marvelous benefit of going indie is that writing is a lot more fun now. Writing and publishing are very different activities. My experience in traditional publishing was that they actively conflicted. As an indie author, they do not conflict. They bolster each other.
LP: What are the pros and cons of self-publishing versus traditional publishing?
PM: When the traditional publishing model works the way we all dream it might – think of it as the Richard Castle model from the TV show Castle – it's marvelous. Brand name authors become an asset that publishing houses tend with some care. It's different for mid-list or most entry-level authors. I was just listening to a Joanna Penn podcast with Jane Friedman in which they said contracts traditional publishers are offering first-time authors are worse than ever.
The exception is if you have a blockbuster book, everyone agrees it's a blockbuster book, multiple publishers are willing to pay an advance commensurate with a blockbuster, the publisher you pick follows through on its promises, and all the marketing efforts work so that, in fact, your book becomes a blockbuster.
Traditional publishing can reach a broader audience — the folks who read one or two books a year – while indie authors' audience are devoted readers.
PM: Now, for the pros and cons of self-publishing.
Pro:  Nobody tells you what to write. Some indies might say the market tells you what to write, but that's only if you listen. 😉 I'm to a stage where I write what I like to read, then try to find readers who enjoy that, too. I do not tailor my writing to trends. Writing is too consuming and too difficult to do if you're not, first, enjoying it yourself.
Pro: You're in charge. You decide when your book will come out, what it will look like, how it will be marketed.
Con: You're in charge of implementing all those decisions. It's a lot of work.
Pro: You can change things that aren't working and you can do it quickly. Cover redesign? Tweaking something that always bugged you? Altering the book description? Price change? All that and so much more you can consider, decide on, implement, and then view the results in less time than it takes for a traditionally published author to hear back about whether his/her editor took his/her request to any of — much less all of — the meetings required to decide on a change.
Con: You're in charge of implementing all those changes. It's a lot of work.
Pro: You set your schedule. When it comes to "hurry up and wait" traditional publishing puts the military to shame.
Pro: You get paid in 60 days.
Pro: You'll never fire yourself.
Con: You have a boss who's a b**ch. 😉
LP: Ball-park figure. How much MONEY do you spend on each self-published book and what are the expenses involved in publishing your own book?
PM: Book cover — $200-900 (largely depending on cost of photos.) Formatting — $100-150. Editing/Proofing — $100-600. Marketing — $0 to the national debt.
I have a couple advantages. I was an editor with the Washington Post for 23 years and a journalist longer. I'm an experienced editor. However, nobody catches everything, especially not in their own work, which is why I always have a proofer.
The second advantage is that from having been published for twenty-six years, I have author buddies I can call and brainstorm with for story issues. In essence, they are my developmental editors. And I repay in kind.
LP:  Based on YOUR OWN experience. How much TIME do you spend each day doing marketing and promotion (over all and including social media, newsletter, booking ads etc . . .) Do you think it's enough or not enough? Why?
PM: Oh, boy, I get to use my favorite answer – it depends.
When I'm deep in writing mode I try not to do much of that because it engages a different part of my brain/personality that is not conducive to writing. When I'm writing I don't want to think about audience reach or ROI or strategy or any of that. I want my head so thoroughly in the fictional world that I'm astonished to walk outside and discover it's not the season I'm writing about. (Which is why the neighbors think I'm that strange woman who wears winter coats to walk the dog when it's 76 degrees out.)
Other times I will spend all day on various aspects of marking and promotion. That's on top of the time my executive assistant Kay devotes to these areas, along with help from a team of great folks helping with individual aspects. It's been wonderful to be able to delegate some of this, to free up my writing brain.
Enough? Nah. Because there's always something else I see out there that I could have done. Another strategy or outlet to try. The possibilities are never ending.
But that's okay, because all those strategies, all those possibilities are in service of finding the right reader-author match.
LP: You have many series on the go. Including the bestselling CAUGHT DEAD IN WYOMING SERIES. Why do you write series books? Tell us about your series. And what can an author—self-published (or otherwise) accomplish with a series?
PM: I love the interconnectedness of the communities in the series I've written. I love how a character learns a lesson in Book 1 and shares it with another character in Book 4. I love how the characters continue to grow past the end of their book. In romances, I don't believe the ends of my books are Happily Ever After. Instead, they're Happy Beginnings. What the characters learn and how they change brings the hero and heroine to the point where they can have a Happy Beginning.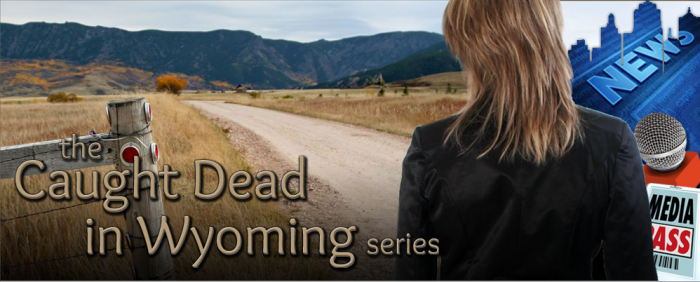 In CAUGHT DEAD IN WYOMING each book has a mystery that's completed by the end of the book. But the story of Elizabeth Margaret Danniher, her friends, and her stray dog Shadow develops over a number of books.
Elizabeth faces multiple crossroads in her life. Her marriage ended, her successful career was pulled out from under her, she's plunked down in Wyoming, and trying to figure out what's going on. Between solving murder mysteries, she is also solving the mystery of her life.
For me, writing a series lets me explore that great question "What happens next?"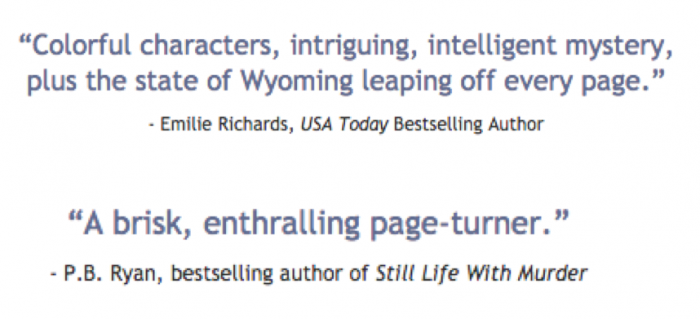 LP: What social media networking sites do you use? Which one(s) work best for you and why?
PM: Mostly Facebook and Twitter. Some on Pinterest. I am looking at Instagram … mostly so I can inflict photos of my dog and garden on the wider world <eg>. The conversational threads are great on Facebook. Twitter appeals to my newspaper background. I wrote headlines for a lot of years, so 140 characters feels comfortable.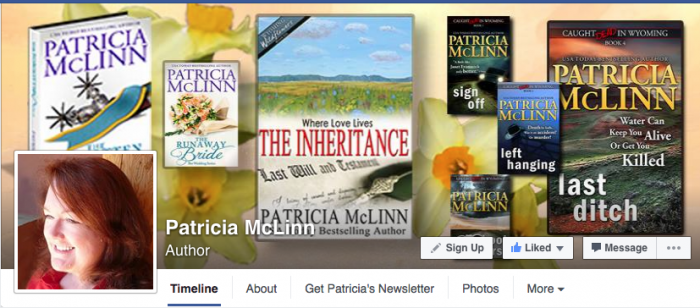 LP: You've hit the USA Today Bestseller's list. What are 3 KEY THINGS THAT an author needs to do whether they are indie or traditionally published?
PM: Enjoy what you're writing. Both because it comes through to the reader and because it will allow you to keep writing though a long career.
Fulfill your pledge to the reader. From the first paragraphs, you promise the reader a certain kind of read. Heck, before the reader starts Chapter One, s/he has an idea of what kind of reading experience this book is going to give him/her – from the packaging, the description, the title, your previous books.
Respect the reader. Those envelopes I kept being accused of pushing? Well, a lot of them had to do with this point. Readers do not need to be told the same thing 47 times, to have limited vocabulary, to have references constrained to current pop culture. Reading has always been a great education — as well as a great enjoyment – for me because authors didn't undersell my ability to pick up new information from context or look something up.
LP: What is the most important thing you do when you release a new title?
PM: Inform the loyal, wonderful folks on my readers list via my newsletter. I try to give them any news first, along with deals, behind-the-scenes, and consumer tips. That's the most important external thing. The most important internal thing is a lot of self-talk about one of the wonders of ebooks being that a book's life is long and this is only the first day. Lots and lots of days to come when a good match can be made between the reader looking for my kind of read and my books.
LP: WHO are 3 authors that YOU look up to and admire and why?
PM: Limiting this to three is cruel. I'll go for diversity in these three.
John McPhee in non-fiction. Because he can get me interested in topics I don't care about beforehand (oranges, geology) and sustain my interest.
Georgette Heyer: Because her books seldom hit just one note – all-angst-all-the-time or over-the-top comedy. Instead, they have moments of humor, of seriousness, of confusion, of clarity – just like life. I especially like this in her murder mysteries.
Kathleen Eagle: Because she never stops respecting the reader.
LP: When readers message you – which series or book comes up most often as a fan favourite and why?
PM: Interesting question. It made me realize that people have contacted me about every one of my books/series.
I see reading as interactive. Readers don't passively accept a story from the author. They bring so much of themselves to each book they read. A reader's life experience or where they are at the moment will affect how they react to a book.
Okay, but you asked "most often." Probably a tie between:
The Wyoming Wildflowers series, saying they feel so connected to the characters that they feel like family
The Caught Dead in Wyoming series, saying they love the realism of the characters and that the mystery has some humor, while still respecting the seriousness of the crime.
(Boy, this was hard, because there are devoted readers of the other series I feel like I'm leaving out.)
LP: Bonus: Dogs or cats and why?
PM: Dogs. Because there's so much communication with them. Because they pick up on your moods and care. Because they're inside pets who don't use a litter box inside 😉 Though, realistically, it's probably because my family had dogs all along, so that's what I know better.

Thank you!
You can connect with Patricia McLinn via her website, on facebook and on twitter and pinterest.
Follow Lachesis Publishing on twitter and like our facebook page