I haven't always been a writer. There was a period of time in my early years when being a writer wasn't even a thought in my head. I aspired to be a fairy princess or a ballerina. But I loved to read, and stories transported me to other places where I could be anything I wanted.
The first piece of fiction I wrote was in fifth grade, when we had to write an essay about how we had named our pet. My family had a dog, Skippy, and he was named that just because we all liked the name. Pretty boring story. But I made up a tale of Skippy running up and down the hallway in my house, looking like he skipped. I got an A on that essay, and felt a little guilty because, well, it wasn't a true story. Deep down, I was surprised that my teacher hadn't seen through my deception, and maybe a little bit pleased, too.
When I reached junior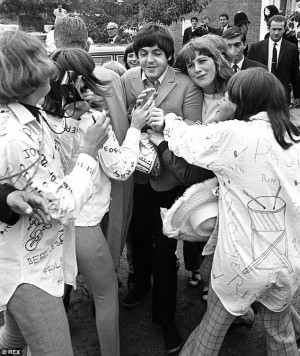 high, I started writing fan fiction. The TV show,The Wonderful World of Color, produced by Walt Disney, ran a series about the American Revolutionary War hero, Francis Marion, nicknamed the Swamp Fox. My imagination took off, and I wrote a story about my own fictional hero, a teen-aged Revolutionary spy and the young lady he recruits to help him. Then when I was in high school, The Beatles were the hottest thing since humans discovered fire, so I wrote a story about an American girl who meets them on their first U.S. tour and becomes Paul McCartney's girlfriend. It was all cheesy, but my friends loved it and clamored for more. I was shocked. I could actually write something that people wanted to read!
After high school, college and marriage and kids made me put down my pen for a while. Then I read Rosemary Rogers's Sweet Savage Love and Kathleen Woodiwiss's The Flame and the Flower. Rogers's and Woodiwiss's heroes were hot and dangerous, and I loved the way their heroines stood up to them. I was hooked on historical romances, but more than that, I knew I could write one. I was inspired to write my own. Nine years later, my first historical romance, Ecstasy's Gamble, was published under my pen name, Amy Christopher.
I'm writing under my own name now, and writing about magic, and dark heroes and feisty heroines who live in the past. It's been a long road between that first fifth-grade essay and my newest release, Moon Dark, Book 1 Auriano Curse Series. The hero, Alessandro, Prince of Auriano, is much more complex than my dog, Skippy, and quite a bit sexier, too. And the heroine, Sabrina, knows just how to push his buttons. So there are sparks and fireworks and some magical stuff. I hope you visit Moon Dark and get to meet them.
Find out more about Patricia Barletta and her books on her website: www.patriciabarletta.com.
Connect with Patricia Barletta on facebook: Patricia Barletta on facebook
Like our Lachesis Publishing page on facebook.
Follow Lachesis Publishing on twitter.