Everyone knows the expression 'things that go bump in the night'. Things go bump 24-7-365 in my house.
In the early 1960s, my father bought an old carriage house (horse and buggy and later cars) two blocks from where we lived in a house with apartments. He kept the framework of the carriage house and built a whole house from it. I was 12 when we moved, and the house was like a palace. Two floors, 2 bathrooms, attic, cellar. But whenever I was home alone, I felt like I was being watched, and walking in the attic made me uneasy.
Decades passed. Lots of decades passed. My sister and my brother (both older) left home, and finally I left home too. My mom and dad still lived in the house with the 3rd family dog we'd had. Dusty was an overweight, hermaphrodite mini-schnauzer.
My mom passed in 1999. One summer day, I stopped by to visit my dad. Dusty was on the enclosed back porch so I sat on the couch out there and patted him. My dad was upstairs and called out to see who it was. I answered that it was me. I never left the porch. My dad walked downstairs and, passing the first floor bathroom, asked if I had shut the bathroom door. I said no. He was irritated because he wanted the door open and insisted I had closed it. When I went home, I thought about it and realized that my mom always wanted that door closed. I knew then that my mom was still there. I called my sister and said, "Ma is still in the house." My sister said, "I know." Apparently something similar had happened to her. We were convinced my mom was still there. As time went on, other little things started to happen.
A few years later, Dusty the dog passed. (Guess who got stuck taking him to be put down. It was one of the saddest days of my life). When I visited my father, I pulled into the driveway and got out of the car. I heard Dusty barking. He sounded as if he was a distance away, but I knew it was him.
Then my father (by that time was in his late 80s) became ill. We needed 24 hour care. The overnight woman didn't know my mother was still a presence in the house. She saw my mom walking down the stairs and then vanish. She didn't tell us for a long time because she didn't want us to think she was doing drugs.
My father finally passed. The house was empty except for the furniture and other stuff everyone had dumped there: my mom's clothes, my dad's things, my sister's and brother's extra free storage. Since I was getting the house, I had to clean it.
I didn't move in right away because I wanted it painted. I also had the kitchen renovated. So the house was empty for quite some time.
That's when things really started to go bump 24-7-365. There were the usual things: footsteps overhead as well as the pitter-patter of little dog's feet. Yes, Dusty the dog was still there. Doors opened and closed on their own, lights on were that shouldn't be on, sometimes voices.
I needed to put extra locks on the attic door, the cellar door, doorstops for bedroom doors upstairs. I had cats and didn't want them to get stuck in a room.
One summer day, I stopped by with a friend. When I unlocked the front door and stepped inside, I called jokingly, "Hello!" From upstairs a voice called, "Hello!" I looked at my friend who said, "That's your father's voice." I thought "Oh, crap, my father's here too."
Four or five ghost hunters groups came through. All the psychics who walked upstairs to the attic asked me who the little boy was. (I was being watched when I was 12). Jeremiah, the little boy, died in the carriage house decades earlier and was waiting for his sister (who had most likely died decades earlier). Jeremiah and my mom like to play pranks on me. I've heard the sound of a little boy running and a dog running with him.
Lachesis Publishing author Jeanine Spikes (author of The Possession) came here with her group. On the voice recorder she caught my mom and the boy whispering. She caught my father on the recorder AND heard with her own ears my father say, "pack up". It was 1:00 am in the morning and he wanted them to leave.
It would take me a week to write out all the incidents that have happened. For example: The man who installed my new furnace told me I had a ghost in the house.
I'll leave you with this. I recently called my sister and said, "If you die, don't come here. There's no room."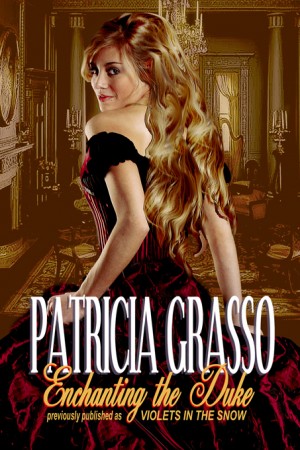 Patricia Grasso is the author of eighteen historical romances including the Douglas Series which follows the love stories of the amazing Douglas sisters (Angelica, Samantha and Victoria) in Regency London and the Lords of Stratford Series, Regency historical romances with a fairy-tale twist about the aristocratic families in Stratford-on-Avon. 
Patricia Grasso's latest release is Enchanting the Duke. You can purchase it at Lachesis Publishing or on amazon, BN nook, or kobo.
Connect with Patricia Grasso online on her web site and on facebook
Like our Lachesis Publishing page on facebook.
Follow us on twitter.