A writing voice is similar to a singing voice, you can have natural talent but without patience and practice it won't come out in its fullest form.
My writing is heavily character driven. I have to know all I can about a character before I can truly create him or her. I write up to eighty biographical elements about the character and I use these items for continuity. If the protagonist drives a Prius on page seven she better drive the same kind of car on page 200, if not readers will notice.
I write a point-form biography on my protagonist, love interest and my foil. I have a basic template for the biography and I become highly curious about the character. What was their childhood like? Where did they go to school? What scares them? What did they want to be when they grew up?
I love writing characters who have a dark side or a dark twist to their nature; they can bring out parts of me that I can't bring out in real life. For example, I wrote a scene in Kaitlyn Wolfe, Crown Attorney where a young Maxine Swayman told a store clerk that she loved a coat with a removable fur collar so she could wear it to anti-fur demonstrations. Maxine's mother admonished her in the store.
I had a real life experience where a persistent salesperson tried to sell me a similar coat. I ignored the clerk's pleas for me to buy fur and looked for other more suitable coats. Driving home from the store, I thought how I would have loved to shock the clerk, but in reality I didn't. The silly thought rolled around in my head and when Maxine was born, I had the opportunity to use it.
My writing voice has developed over time. I truly believe that without constant honing of my skills I couldn't be a writer. Writing characters, for me, is fun, but sometimes I have trouble plotting.
I've learned to use a plot chart to make my stories work. The stakes start small for the protagonist and get higher as the novel progresses. When I use the plot chart and I see a flat line, I know the story is not working the way it should. I will then painstakingly edit the non-progressive part until the story advances, as it should.
Next time you see a red-haired woman, in a coat with a fake fur collar, driving a Prius you're likely seeing my antagonist Maxine Swayman. (Note: Maxine Swayman appears in both Kaitlyn Wolfe and Vigilante and her character has developed over the course of both books).
Jacqui Morrison is a crime thriller author. Her suspense thrillers include Kaitlyn Wolfe: Crown Attorney and The Vigilante. You can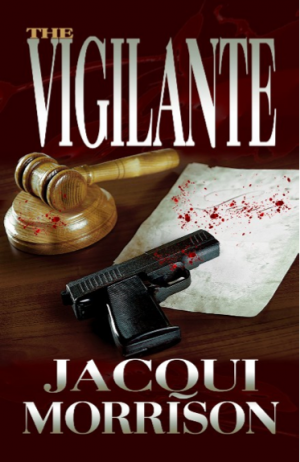 purchase both books at Lachesis Publishing. But that's not where it begins and ends with Jacqui. You see, Jacqui works with victims and witnesses of crimes. Her passion for working in the law started at at a young age, when she was inspired by a character in a popular TV show . . . 
You can get The Vigilante. on amazon, barnes and noble, kobo. You can also purchase Kaitlyn Wolfe: Crown Attorney on amazon
Connect with author Jacqui Morrison online on her web site and on facebook and twitter.
Follow Lachesis Publishing on twitter and like our Lachesis Publishing facebook page.