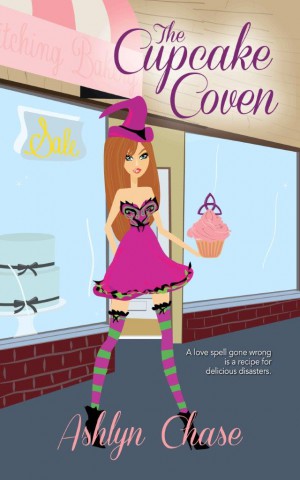 The Cupcake Coven (a new and improved version) has been RE-RELEASED!
YOU CAN PURCHASE THE CUPCAKE COVEN RIGHT HERE at Lachesis Publishing
OR GET IT ON amazon, kobo, ARe and BookStrand and very soon on B&N.
Because I took down my self-published version of THE CUPCAKE COVEN and gave it to Lachesis Publishing (only because I'm a terrible business person, and would rather write more books than keep track of sales, distribution, etc.) B&N is making sure Lachesis has the right to republish it. It's in their review process, so it will be up very soon.
I'm actually glad these outlets make sure our books are legit. I've heard about some unscrupulous imposters stealing book rights and republishing them under their own names. This is, of course, illegal. Copyright infringement carries a penalty of $250,000 and 5 years in jail. Don't even think about it! Readers WILL contact the book sellers or authors to report when book they already read and loved has popped up again–usually with a different cover.
My cover is the same as before. Because it's so unique I hope readers will recognize it as a book they've already bought. Although, if they want to buy the new version too, I won't be upset. (wink)
I love the new book. I paid for an editor before, but my new Lachesis Publishing editor did an even better job. 
That's why I've decided I love traditional publishing instead of Indie publishing. I have a whole new appreciation for all the work a publisher does for me, and they take the financial risk! Yes, I give up some of the royalties, but as far as I'm concerned, they earn their share.