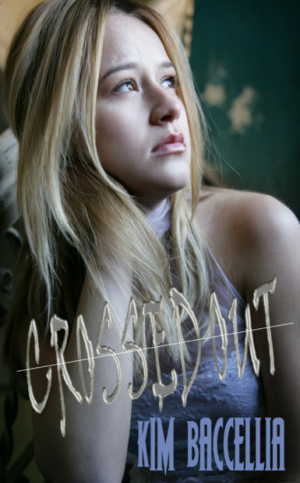 Today's Q and A is with Lachesis Publishing author Kim Baccellia. Kim writes YA paranormal with a mixture of humor, sass, and spookiness. Her book Crossed Out (book 1 in a series) follows a teenage girl who can see dead people and has to get them to cross over. But an evil force is trying to stop her from doing this.
When did you first realize you wanted to become a writer and why?
I've always wanted to be a writer!  As a child I used to be the 'storyteller' of my neighborhood.  During that time the stories were a mix of what I was watching on TV—really bad B films mixed with Gilligan's Island. I admit, I crushed big time on the Professor! In elementary school I loved writing short pieces in my 5th grade class.  My teacher, Mrs. Clements, always encouraged me to write more. The same with my 8th grade English teacher and high school journalism teacher. I wrote for my school newspaper too.
Describe your favourite place to write?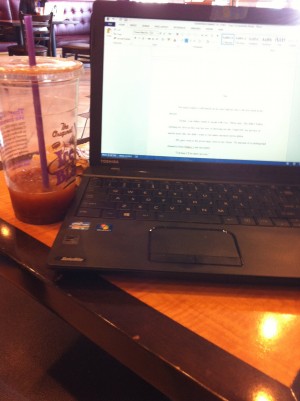 I love writing at my local Coffee Bean & Tea Leaf coffee store. Great atmosphere and even better iced tea lattes. My favorite has to be the pomegranate blueberry mixed with sugar free chocolate powder. Nom! **Also I love their lemon bars!
What would I find on your desk at this very moment?
A couple YA books to review for the fab YA Books Central site.  The latest Buffy the Vampire the Slayer comic book. **Yes, I'm a huge fan. A Greek mythology book as well as a Parisian map to help with my current project.  Water and yes, some iced tea! I also have large headphones and my iPod handy with a collection of music to help with my writing. Right now it's Pop music with songs from One Direction; Fault in Our Stars soundtrack; Coldplay; 30 Seconds to Mars, and Miley Cyrus.
What is your tea/coffee beverage of choice when you're writing?
Love Coffee Bean & Tea Leaf ice tea lattes.  But if I'm not there?  I also love Teavana's chocolate teas.  I add hazelnut or French vanilla soy creamer to them.  Nom.
What do you love to read?
Depends on my mood. Right now reading an action packed YA set in Ecuador. Also have the audio book Written In My Own Heart's Blood by Diana Gabaldon on my iPhone. Love the richness of the language plus the Scottish accent is an added bonus!
 What is some good advice you can give to an emerging writer?
 Be persistent and never give up. This biz isn't for the faint of heart.
What do you do after you finish a book? Do you celebrate or take a nap?
Depends! Sometimes I just want to go out and see the latest movie! Or yes, crash!
 You've written a paranormal for Lachesis – tell us about Crossed Out.
Sixteen-year-old Stephanie has an extracurricular hobby—she makes talismans, mostly crosses, and decorates them with the essence of recent murdered girls to help guide them to their vision of the Other Side. Everything is going fine until strange things start happening in her town, messing up her routine. It's up to her to figure out what she needs to do before she's next on the list to be crossed out.
 What do you enjoy about writing YA?
I think I'm a teen at heart.  I enjoy writing YA but have been playing around with doing a crossover novel.
What are you working on next?
I'm currently doing revisions on the sequel to No More Goddesses which is set in Paris, France and the Greek netherworld. I'm also finishing touches on a crossover thriller set in the not too distant future. This one has a forbidden love triangle. And of course, I plan on revisiting the sequel to Crossed Out this summer. Let's just say Stephanie finds out the Other Side isn't done with her yet.  There will be more reveals and suspense in the sequel!
Follow Kim on twitter, facebook and check out her website.
Follow Lachesis Publishing on twitter and like our facebook page.