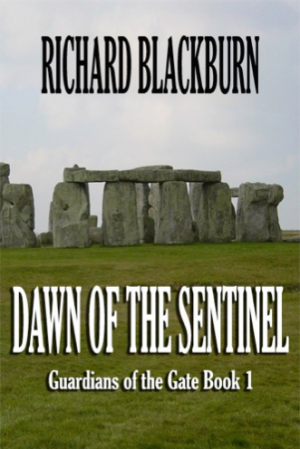 Today's Q and A is with YA author Richard Blackburn. Richard has written a three book time travel/adventure series for Lachesis Publishing, called Guardians of the Gate, featuring a university student who travels back to Medieval England only to discover she has some amazing powers she never knew she had. Book 1 is Dawn of the Sentinel. Book 2, Return of the Sentinel, will be out soon.
When did you first realize you wanted to become a writer and why?
My father was a great story teller. In those days there was no TV, it was just after the Second World War so there was little of anything in England. But the family was Manx so the stories were about the Island, its beauty and the odd assortment of mythical creatures supposedly to be found in the glens and the heather covered hills. I wasn't a good scholar and didn't read much fiction at all, I believed in living the adventures. I was brought up on the site of a medieval castle, literally. The house was built on the site of the midden! After leaving school I migrated on my own to Australia and worked in areas as diverse as the Simpson Desert and the tropical city of Darwin. I took up parachuting and scuba diving. So when my own children were growing up in Papua New Guinea, with no TV or cinema or other white children, I followed my father's example and made up stories for them. It was when I was devising a story of adventures in Medieval England, for my granddaughter, that I knew this was the story I wanted to publish.
Describe your favourite place to write?
My favorite place to write was on the veranda of my house just north of Brisbane. when I was first writing, before housing estates started popping up all around the area, it was heavily wooded. There were lots of parrots in the trees and we were sometimes visited by kangaroos. So it was quiet and peaceful, perfect for me to write without disturbance.
What would I find on your desk at this very moment?
I don't have a desk these days. I'm what is called a 'grey nomad' here. I live full time in a fifth wheeler (RV) and travel continually, from inland (Australia) where I dig for sapphires and opals to the coast for some great fishing. When I'm writing I have my laptop on my knee and, once again, I can have kangaroos and emus all around.
What is your favourite beverage of choice when you're writing?
When writing, I like drinking percolated coffee. On really hot days, like in summer when it's 45 degrees for five days together, I like iced tea.
What do you love to read?
I like reading old works of fiction, Chaucer and things like that. Also historical writings, like Froissart's Chronicles and medieval letters such as the Pastern letters.
What do you do after you finish a book? Do you celebrate or take a nap?
When I finished my first book I couldn't  believe it. I re~read it many times and found as many beta readers  I could, especially from medieval reenactment groups and people with expert knowledge. then I had such an empty feeling, I had to start writing again.
You've written a three book series for Lachesis Publishing called Guardians of the Gate. Tell us about this series.
My three books are about a young student who falls through a time warp at Stonehenge and finds herself in the year 1347. That was a terrible time in England, ten years into a war with France that would continue for over a hundred years more. Edward III was sending the country bankrupt with his warfare and the country was suffering spiritually, with the Pope having left the Italian city of Rome to reside in France, in Avignon. Life was more difficult for the peasants and it was in a peasant village Jenny found herself, with the ancient Gatekeeper, Gwenelda, who should have prevented this all from happening. The old woman wanted to hide Jenny for the months she would have to wait, for the Gate to open again, but fate wasn't that kind. Almost immediately Jenny found herself in so much trouble, it would take all her intuition, her skills in Karate and a bit of ancient Druid magic to see her back home again. but is that all? Is she really safe now? You have to read all three books to find out!
What do you love about writing about time travel and history?
I've been very lucky with my writing. In my youth I visited many ancient castles, as well as living on the site of one. There were stocks in the village which were originally placed there to enforce the Laborers Statute of 1351, which punished peasants who wanted more than the sixpence a week they received. That was before the plague, when there were many more workers alive. The court house in the village was built in the reign of Elizabeth the First. So I was surrounded by things I found very exciting. When I was writing, I was able to visit England again, and visit many more sites of historic interest, and ask questions (my wife got quite annoyed and accused me of being a nuisance for the poor tour leaders). So with these interests and having lived quite an exciting life myself, it seemed natural that the stories I told my children and eventually wrote, should be in this genre.
Like our Lachesis Publishing page on facebook. Follow us on twitter.