I'm a big fan of social media. I've been doing the social media hustle since it first began. I got my facebook and twitter accounts when they first launched and I've dabbled in numerous other social media sites. I started blogging (on blogger) in 2006, when I was working in film and TV, and I haven't looked back. I also blog on wordpress, and I have accounts on pinterest, digg, goodreads, and stumble upon.
The great thing about social media is that you can figure everything out. You can figure out how it works and all the "etiquette" stuff just by hanging out for a while. You don't necessarily need to hire a pro, although it could be helpful. What you do need to do is hustle. You need to be on every day, for at least one hour. You need to share and you need to interact.
I'm by no means, an expert at social media, but I've been on it since 2004. I've learned by doing. And I'm still learning. I'm still figuring out how to navigate and interact. Some people bring their emotional baggage onto social media, others can be quite nasty. You have to figure out what you want to share and what you want to keep private. There are a lot of sad, strange, and shocking people out there. When your instinct tells you that someone is not quite right, listen to your inner voice, and don't engage with that person. If you do run into trouble, you need to block that person or report them.
Many authors are seasoned pros at social media. For all you social media gurus, what are some tips you can share with all of us?
THE MUST HAVES
You should have facebook and twitter accounts. These two entities are the foundation for social media interaction and for getting your name out there. But it's not enough to have an account. You have to build your following. You do that by following people you already know, ahem, and then following the people they follow. And you should be adding a few people each week. Why? Because you are building your network. And your online network is just as important as any other network in your life. Both facebook and twitter make it easy. They suggest people for you to follow or friend. Easy peasy.
Facebook: Every author should have his or her own facebook page. Your facebook page is your home base. It's where you work, i.e. interact with industry people and most importantly, readers. Keep a separate/private account for family and friends, people you know IRL (in real life). Why? Because you have a private life and you want to keep it private. How do you get people to like your page? You invite them via your e-mail contacts and you invite them on your web site. Just two ways to get "likes".
Twitter: Don't use a cutesy or obscure twitter moniker. Use your professional name. So people know it's you. Guess what? You want people to know it's you, because you want people to buy your books. Include your web site address and a bio on your twitter home page. And use a picture of your face as your avatar. Otherwise, people will think you're a spam bot.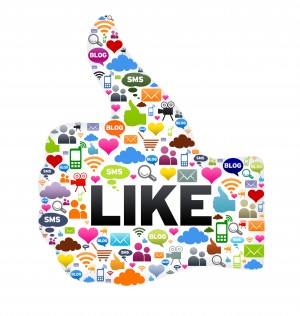 THE MUST DOs
Facebook: Post. Every. Day. Mornings are great – lots of traffic. Don't just post about your book. Post a cute pic of your silly cat with a funny caption. Tell us about the juicy conversation you overheard in a coffee shop and how you'll be putting it in your next book. Post a pic of you with one of your readers at a book signing. Post a recipe of your favourite pie that your mum made for you as a kid. Run a contest and post about that. One of my favourite romance authors is Eloisa James. She is brilliant at social media. Follow her, and you'll see what I mean. She is engaging, charming, and exudes warmth. She always has a lovely little story, or tidbit to share, and she regularly runs contests and giveaways. Engage with your followers. Like what they post and leave a comment. Yes, it's work, but it's fun too.
Twitter: Tweet several times a day. Tweet a meaningful quote, or a picture of your new book cover . But don't just tweet about you. Throw some twitter love around. Retweet other people. Hit that "favourite" button a few times and leave a thoughtful or saucy reply to someone's quote or quip. I guarantee, you'll have fun doing that too.
TO BLOG OR NOT TO BLOG
You should have your own blog. You should blog at least once a week (bare minimum). You should promote your blog on facebook and twitter and anywhere else you hang your hat online. Your blog is where you get to ruminate, muse, share fun/silly or poignant stories about your craft, or even your life.
DON'T FORGET YOUR WEB SITE:
You absolutely need a web site. You can either pay someone to make you one, or make one yourself on wordpress. If you haven't already bought the url with your name – do it, because the internet is full of shady people who buy up url names and then sell them back to you at an outrageous price. Why do you need a site if you are on social media? Your web site is your home base on the internet.  People will google your name first and look for a web site. A web site tells the world, that you are a professional and that you have something to offer. It's your internet calling card. You can link all of your social media sites onto your web site. And best of all, you can list all of your books and link them to every online store out there.
YOUR VOICE
You can control what you put out there. To use the "lingo" – you control your message and your brand. What you choose to share (or not) is up to you. But you know what? It's called "social" media for a reason, because people interact. And that is the key. We work in a business (and it is a business) where we want complete strangers to read our books. How do we get them to do that? We talk to them. We tell them a bit about ourselves and we ask them a bit about themselves. Social media is a perpetual party. You can hang out for a bit and chit chat, dance a little, and then go off and write, and when you come back that party is still going on. Remember to always have your dancing shoes with you. Now, let's do the hustle . . .
Joanna D'Angelo is Editor in Chief at Lachesis Publishing Inc. She loves Cinnamon Dolce Lattes, social media, and a good story.