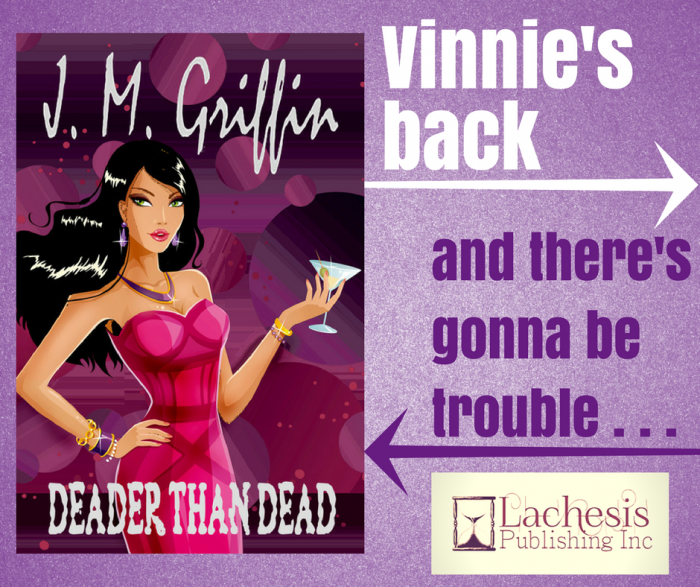 Vinnie Esposito is back in another killer cozy by J.M. Griffin.
Book 7 in the Vinnie Esposito Series grabs hold of you on page 1 and never lets go! 
E-book is available right here at Lachesis Publishing (all e-book formats).
And on amazon,
(coming soon to) kobo, iBooks and Barnes and Noble.
What it's about:
Vacations are supposed to be relaxing right? That's what Vinnie Esposito thinks, until she spies a dead mobster bobbing in the water at her feet while she's sipping her morning coffee.
All Vinnie wants is a leisurely get-away on Block Island with her best friend Lola Trapezi. Lola has been going through a rough time since she found out that she isn't a real Trapezi, but the product of an illicit affair between her mother and a notorious mobster.
Vinnie is determined to support her friend no matter what, but when Vinnie stumbles across more dead mob guys, not even her ex-boyfriend, State Trooper Marcus Richmond, nor her friend, FBI Agent Aaron Grant, can keep her out of the hot seat with the Block Island authorities. And when Lola's mobster-father shows up, everything goes from bad to deadly. Can Vinnie get off the island unscathed, or will she end up deader than dead?
J.M. Griffin. is the author of two cozy mystery series for Lachesis Publishing. The popular (and sexy) Vinnie Esposito series and the fun (and yummy) Deadly Bakery series and the co-author of the dark and compelling Linty Dragon Mystery Series. Book 1 Dragon's Touch.

Connect with J.M. Griffin on social media: twitter, web site, facebook
Like our Lachesis Publishing page on facebook.
Follow Lachesis Publishing on twitter.