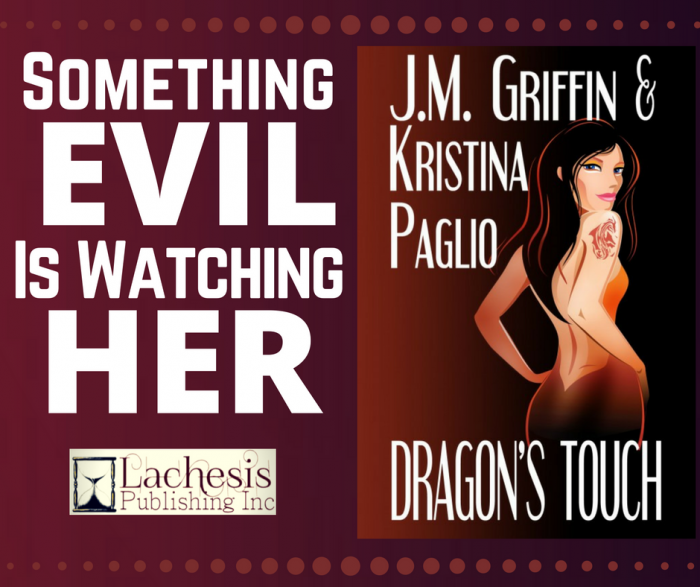 Our Lachesis Publishing BOOK OF THE WEEK is DRAGON'S TOUCH by J.M. Griffin and Kristina Paglio. Linty Dragon Series (Book 1)
Book restoration specialist Lynn Tegan Dragon, or Linty as her family has always called her, has inherited the revered Dragon Estate along with a priceless collection of dragon statues. But Linty's legacy comes with a heavy burden. She must guard the dragons and make sure they always remain in the Dragon ancestral home in Scotland. She must uncover the truth behind her grandmother Essie's mysterious death. And she must find the key that unlocks the magical powers of the dragons in her possession.
Linty can trust no one. Not her father, nor her relatives, and certainly not the darkly handsome and dangerous Cullen Vaughn, a dragon expert, who claims he wants to help her. Determined to protect the statues with her life, Linty searches for answers as she fights off nefarious collectors who will stop at nothing to get their hands on the dragons . . . including murder.
J.M. Griffin. is the author of two cozy mystery series for Lachesis Publishing. The popular (and sexy) Vinnie Esposito series and the fun (and yummy) Deadly Bakery series and the co-author of the dark and compelling Linty Dragon Mystery Series. Book 1 Dragon's Touch.

Connect with J.M. Griffin on social media: twitter, web site, facebook
Like our Lachesis Publishing page on facebook.
Follow Lachesis Publishing on twitter.