God gave me three gifts of inspiration in life and literature.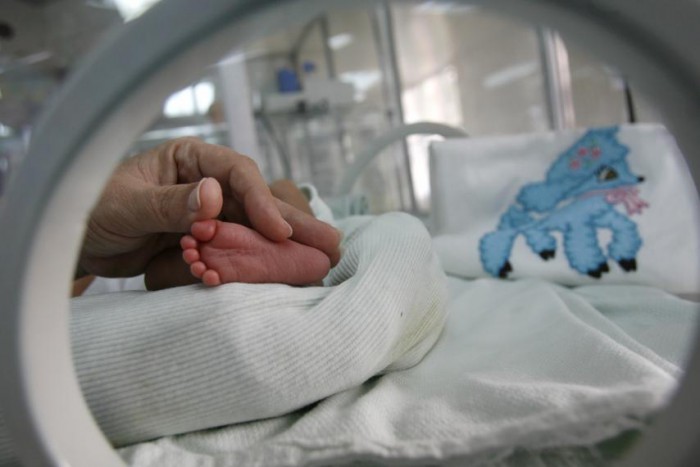 I was 24 years old Nov 6th 1988, standing in an operating room as doctors performed an emergency c-section on my wife. My son was dying in her womb. My son was dying. I stood there in shock and dismay, how could this be happening? I watched the surgeon cut into my bride, move organs and then reach into her abdomen and delicately pull out a small struggling life strangled by an umbilical cord. My son's body was blue, he wasn't crying. They freed him and his body soon took on a healthy pink color. My son, Thomas Michael, my boy had arrived, earlier than expected and seemingly no worse for the dramatic entrance. Things seemed normal for at first but Tom soon had developed breathing issues, his lungs weren't developed properly and he was sick.
I listened in shock as the doctor explained Highland Membrane Disease, fluid buildup and under-developed lungs and a series of other issues afflicting my son. My wife had given birth with pneumonia and was having her own health issues. I remember her tears as other moms were able to hold their babies, and  she couldn't. We waited for several hours while the doctors were tending to Tom. My father stayed by our side offering his support and encouragement, he was the rock we both leaned on. A doctor finally came and told us they couldn't help and Tom had to be sent to Children's Hospital and placed on a respirator. Twenty minutes later I watched my son, attached to machines, being loaded into an ambulance and transferred into Boston from the small suburban hospital. The doctors would call me tomorrow. I stood there in shock, as the ambulance drove away carrying my son, my father literally holding me up as my whole world just imploded.
I looked at my dad, lost and hopeless, "Dad, what do I do? I can't fight this battle. Why? Why my boy?"
My father hugged me, his face wet with his own tears, "God is watching over him now, Greg. You need to take all your strength and stand tall, for that woman up there and your boy. You need to grow up fast, son. You need to keep it together for your family. You told me once how strong you are, call upon it now and be strong for all of them."
I awoke the next morning to the ringing phone at 5:30AM, I felt ill as I picked it up. It was Children's Hospital, Tom had had a rough night but was holding his own for now but they couldn't make any promises and I should prepare my wife for the worst. I hung up the phone, took a breath and looked at the cross hanging on our bedroom wall, "Don't you take my boy, you can't have him!" I' d never sworn or threatened God before, but I let loose a string of blasphemies I'd only used on people facing me in a street brawl. He wasn't going to die and I wasn't going to tell my wife about the phone call from the hospital.
I got in my truck and I drove to Boston. I was escorted to a small incubator-like unit, inside was my son, hooked up to machines to do his breathing and to help cleanse his blood. His face was swollen and yellow, nothing like the child I saw the night before. THE nurses left me alone; I couldn't touch my son I could only stare through the glass.
"Thomas, it's your dad. I know you can hear me, son. Fight, do you hear me! You fight and you live. Don't go with the Angels, you stay here, with me. I don't want to lose you, do you understand? Mom and Dad love you so please don't leave, you just got here. You just got here." I felt my tears, "Don't leave me son." I sat in silence for three hours, my hand touching the glass, watching my boy, willing him to live. Imagining my strength flowing from me, through the glass barrier and into his frail, tiny body. I repeated the mental image every time I saw him, it didn't matter who I was with or who was around and I didn't care what anyone thought, each day he lived was a gift and a victory. And if he needed my life to survive he could have it.
Thomas made a miraculous recovery and is part of a Children's Hospital medical journal, he shouldn't have lived, but he did, he beat the odds and fought the ultimate fight, the first month of his existence; the battle for his life. Tom is 27 years old now, a remarkable young man with tenacity and a will to do things his way. That tenacity has caused some friction but no matter what his trial, he always finds a way to make things work out in the end, he never seems to give up on anything or anyone. In the end he finds a way to fight through.
When I find myself going through a rough patch, I remember a frightened young father staring through a glass barrier at a new life and urging that life to fight on and beat the odds. Within those memories I find the strength to rise up and keep pushing forward. My battles and issues have never been as severe as the one he fought and won over 27 years ago. Whether I'm struggling with a chapter in a novel, writing a blog or facing a financial or life hardship I look over at my son and see that twinkle in his eye or that crooked smile he inherited from his dad and I know I can get through. Tom was the one who pushed me to submit my first book and write the follow up. He inspired and motivated me to keep working on my novels when nobody seemed interested in a half-alien private detective. He gave me the confidence and the gift of his insight on the second and third book in the Hybrid series serving as critic and creative collaborator. Tom just didn't influence my writing he is the spark that fanned the creative flame. A flame that would never have existed if he'd lost his fight so many years ago. He is the best son a father could ever hope to have.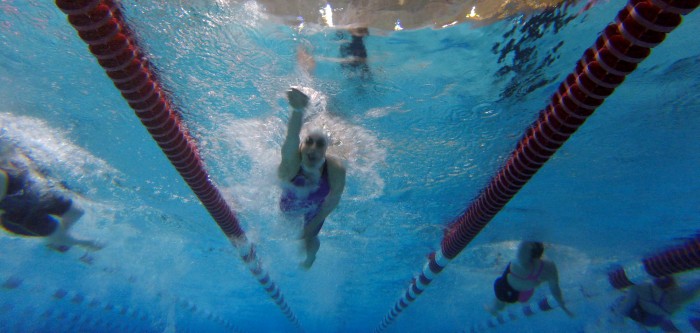 Three years ago my youngest daughter, Christie, at the age of eleven, decided she wanted to try out for an out of town swim team. I'd coached her in basketball and softball in open town leagues but this was something different.  I watched her first competitive meet from the upper balcony at Milford High School, as my baby girl stood waiting for her event with sport swim wear, a racing cap and tinted goggles.  The feeling of dread weighed in my gut like I'd just eaten a cinder block as she stepped upon the diving block against other swimmers. For the first time, I wasn't there coaching her, I couldn't walk up to her and give her advice or encouragement, she was on her own.
The starting horn sounded and the race was on . . . everyone around me screamed and cheered, I watched in muted silence willing her on in my mind, hands balled into tight fists. It was the longest 25 yards in my life. But she finished and won her heat. It was a long year of ups and downs for her and a great deal of frustration but she grew into the sport and more importantly developed new friendships. At the awards banquet she was awarded the most improved swimmer, a trophy she has in her bedroom to this day. She's still a competitive swimmer and will be on the High School league this fall. I've watched her develop into a strong competitor and have seen her conquer her insecurity and lack of self-confidence. She now believes in herself and the difference in her personality is a wonderful thing to behold. Gone is the need to be just like her big sister rather she yearns to be "Christie."
My youngest has reminded me that the road isn't always easy in life but those who stay true to themselves and don't go with the crowd will prosper in the long run. She found a place for herself; it was different from herr friend's passions in dancing and boys, it was in the pool training and competing, working to shave off that fraction of a second and master a smooth flip turn. I've taken that lesson and applied it in my own writing. I'm not going to write like everyone else, I'm going to write about what I want and express how I feel. My political blogs have earned me a great deal of hate mail because I call a spade a spade. I won't ever apologize for my morals or ethics or my freedom to express them and I won't bow to political correctness. I did for a while and took the easier choice, it gave me less headaches but I let myself  be silenced. Life isn't about taking the easy road it's about making the hard choices, following your passions and not following the herd blindly. As I watch my daughter in the pool working and training through each practice, I'm reminded of that lesson.
January 24th 2015. It's three in the morning, the snowfall is near white out condition and I'm looking at the weather in Connecticut and New York. My destination is the Javitz Convention Center in Manhattan. Only an experienced driver or a madman would head out in this weather. But my older daughter was auditioning for "The Voice" and needed me to drive her. "It'll be an adventure," she said flashing me that patented angelic smile reserved for when she really wanted something. So a week later here we are, headed off in the storm, Rachel looking out into the darkness and me gripping the steering wheel as we sloshed through the snow. We saw several spinouts and accidents but we had to keep going. Half the time my car was barely holding the road and any turn of the wheel would make us an accident statistic. A four hour ride took seven terrifying hours. But we made it.
The lines and crowds were spectacular. I waited in line with her for another ninety minutes and the group she was with was called in. Because of her age, she didn't require a parent escort, I got to sit around and fret and hope and pray that she'd come out with a pink ticket. I had my Visa card and would gladly charge the $500.00 it would cost to stay in a hotel if she made the cut to tomorrow. Another hour later she texted me, "I didn't get picked." My heart sank. There must have been something wrong, my daughter sings like the most beautiful songbird. I dreaded the long ride home. Another snowstorm would be welcome over the black cloud that would be hanging over my car all the way back to Massachusetts.
I saw Rachel and she smiled, she wasn't upset and simply said, "They loved my voice, but I didn't have the right look, whatever that means, oh and I saw Blake Shelton, he was here for Saturday Night Live.' I was blown away, she handled the disappointment like a trooper, we laughed on the way back to the car and I enjoyed the time with her. The ride back was light and fun despite the snow falling again. That ride home was one of those memories I will treasure forever, I gained a new insight and admiration for Rachel. She took what most would have taken as a debilitating setback and saw it as a positive experience. She wasn't daunted or discouraged.
Life doesn't always deal a natural strait flush or four of a kind, sometimes you're dealt a crappy hand and just have to wait for that hand play out and start with a fresh set of cards. I was never more proud of my daughter than at that moment, she'd had solos before and large parts in plays etc, but this was an indication of her inner strength character. She understood and accepted disappointment without anger or frustration. It was a lesson in how to handle rejection and disappointment.
I've been on the receiving end of some letters of rejection from Penguin, DAW and a few hunting magazines and I've learned that handling and coping with rejection is more important than celebrating success. Failure builds character and determination. It makes me a better writer and will no doubt make Rachel a better singer. It also defines how we handle life's larger setbacks; we can accept them and move forward, learning from the experience or be debilitated by failure and never try again. My daughter learned the lesson and discovered the right attitude. When I get down on myself or when things seem to be falling apart I like to flash back to that drive home and the precious hours we spent bonding over an unsuccessful Voice audition. I brush off the setback and try again, pushing myself harder.
As parents we spend our lives teaching our children, hoping the lessons sink in, I look at my children and realize how much I've relearned from them, my lessons being re-taught through their lives. There's no bigger reward for me as a father than to spend individual time with my children, to reignite the bond and simply catch up with their hectic lives and let them know even though I'm not always around, I'll always be there and they'll always be with me, no matter how far away life's journey takes them.
Greg Ballan is the author of the science fiction thrillers Hybrid and Hybrid Forced Vegeance. You can purchase them both at Lachesis Publishing, amazon.com, Barnes and Noble, and kobo.
Connect with Greg Ballan on facebook and YouTube
Like our Lachesis Publishing page on facebook.
Follow us Lachesis Publishing on twitter.