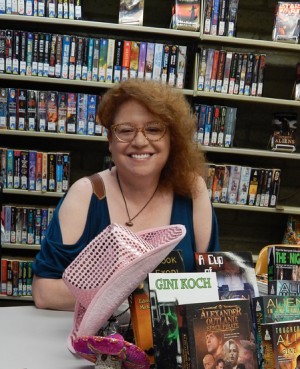 Check out a brand new series on the Lachesis Publishing blog called AUTHOR TO AUTHOR:
David Lee Summers interviews best-selling science fiction and horror author Gini Koch, author of the hugely popular cross-genre science-fiction/paranormal/romance/comedy ALIEN series.
DLS: You've written under several pseudonyms including Anita Ensal, Jemma Chase, A.E. Stanton, and J.C. Koch. You're clearly not hiding your identity when you use a pseudonym. What do you see as their purpose? Authors often build brands around their names. Do you build a new brand identity for each pseudonym or do you see these as subsidiaries of the Gini Koch brand?
GK: I write under pen names because my voice changes. I believe that your name is your promise to your readers. As Gini Koch, I write fast, fresh, and funny fiction. So, if you pick up something from Gini Koch, you expect to laugh a couple of times at least. But being funny is hard work and I don't feel like doing that all the time. So my other pen names allow me to write in any way I want, changing my voice along the way, which is a lot more fun for me.
I write horror as J.C. Koch, I write SF/F/Paranormal as Anita Ensal and Jemma Chase, and I write novels set in the Old West and dystopian future fiction with an Old West flair as A.E. Stanton. G.J. Koch is the closest to Gini Koch – that's the name I write the Alexander Outland series under. I think G.J. is a little funnier than Gini, but that's kind of for readers to decide.
I look at the other pen names as subsidiaries, yes, because they're all me, and they're all coming from my mind. Most of the time these days I byline anything from the other names as Gini Koch writing as (say) J.C. Koch. It lets my readers know it's me, but me writing in "that" voice, so they know more what to expect.
DLS: Who was your greatest writer influence/inspiration when you started?  What are some books of theirs you would recommend?
GK: I firmly feel that anything you've ever read will influence you – good, bad, or indifferent. However, I'd say that the writer who influenced me the most when I started writing was Terry Pratchett, and I'd recommend any and all of his Discworld novels.
Other influences would be O. Henry, Arthur Conan Doyle, Madeleine L'Engle, Dave Barry, P.J. O'Rourke, Clifford D. Simak, Robert Silverberg, and, possibly most of all, Robert Benchley. I'm sure the moment I send this I'll remember other authors who were inspirations, but these will do for now.
DLS: The Alien/Katherine "Kitty" Kat series is now up to fourteen books with the release of Alien Nation.  Obviously sales factor into keeping a series going, but did you write the early novels with the idea that this could be a long-running series?  Will the series run indefinitely or is there a plan for it to end after a certain number of books?  Do you have an ending in mind if the series should come to a conclusion?
GK: I see almost all story ideas as series, and some of them I can see running for a really long time. When I'm writing an Alien novel, I normally "see" the next few books ahead. So, for example, when I was writing Book 5/Alien Diplomacy, I could "see" Alien vs. Alien, Alien in the House, and Alien Research. I might not know what's going into which book, particularly smaller subplots and supporting characters, but I know where the series overall is going.
I don't know that I can honestly say that I planned for such a long-running series, though I'm thrilled that's been the case. In the first few books, I was aiming for Book 10/Universal Alien. All the books were, for me, aiming for that novel. Once that was done, now all the books are aiming for Book 20. So, hopefully we'll get there. I'm currently contracted through Book 17, so here's hoping!
DLS: You're not only a prolific novelist, but a prolific short story writer.  Aside from writing to a shorter length, do you approach the two forms differently?  If so, how?  Do you think all writers should hone both skill sets?  Why or why not?
GK: I actually do approach short stories differently from novels. I'm an extreme linear writer. I start with the title, then the first line, and when I get to the end…I stop. I don't outline novels because if I did, if I knew everything that was going to happen, then I wouldn't bother writing it, I'd already know and have lost interest. So, if something surprises you in one of my novels, good, because it surprised me, first.
For short stories, however, I outline those in my head. I see what I want happening, and then I write. Usually the story changes a bit from my internal outline, but I know what's going to happen. For whatever reason, knowing how a short will end doesn't ruin the surprise for me. This is probably because I'm a natural novelist – it's easy for me to write novel length. But short stories are much harder for me, so I plan them out much more. So far, it seems to be working.
I do feel that, as an author, you should learn to write in as many lengths and genres and styles as you can manage. It increases your odds of selling. But this is an artistic pursuit, and everyone does their art their own way, which is as it should be.
DLS: What do you see as the role of social media in an author's marketing repertoire? What social media platforms do you prefer?
GK: Right now social media is where it's at. It's free, but it costs your time, which is not free. However, it's a great way to meet and interact with readers and fans, and, frankly, as with having a website and a blog, being on Facebook and/or Twitter are kind of the baseline.
I like Facebook and Twitter a lot, am still basically useless at Instagram, though I keep on trying here and there, and I love Pinterest, but boy, is that the time suck if you're not careful. But it's so much fun, too. And I can show off my covers, do boards where I show who I think the characters look like or could play them in that movie/TV show that, sadly currently, only exists in my mind, share jokes, and then some.
DLS: In addition to social media, you put a lot of effort into getting out to conventions and festivals, and you often have an amazing dealer's table set up.  You're an author with a big publisher and books in the stores. Why do you go the extra mile to have this kind of presence?
GK: Because you don't stay an author with a big publisher and books in stores unless you're out there, pressing the flesh, so to speak. My personal viewpoint is that until you're a household name – as in, if you go to any grocery store and say your name, people would know who you are even if they don't read – you'd better be working. And part of the work that goes into being a successful author is going to live events, meeting readers, connecting with fans, speaking, sharing your personality, and so forth.
I happen to enjoy people – unlike what seems like three-quarters of the authors out there, I'm not an introvert – and I enjoy going to events. I love running the yap, I love meeting people, I love sharing my books with new readers and discussing plot points and characters with existing fans, and so on. So going to live events is work that I truly enjoy. But even if I hated it, I'd still do it, because it dramatically affects my sales and my readership, always in a positive way.
DLS: Tell us a little about Alien Nation. What else can we look forward to in the coming months from Gini Koch (or any of your other "secret" identities for that matter)?
Well, Alien Nation is about what happens when word of how well Earth's repelled interstellar bad guys spreads, and many alien races head for our planet, looking for help from the person who's been saving the day for a long time now – Kitty. In addition to the usual hijinks for Kitty & Company, we also see the end of some major villains, which was nice for me and the characters. Well, not those villains, but everyone else.
Alien Education/Book 15, releases May 2, and Aliens Abroad/Book 16, releases in December. I'm also planning to have The Alien Collection, which will be a collection of all my Alien series short stories, both previously published and some new, out this year, as well as a collection of my short horror stories, writing as J.C. Koch. I'll be in several anthologies – Unidentified Funny Objects 6 from UFO Press, Submerged and All Hail Our Robot Overlords! both from Zombies Need Brains, and, finally, the long-delayed MECH: Age of Steel, again writing as J.C. Koch, from Ragnarok. Alexander Outland: Space Pirate, writing as G.J. Koch, gets a mass market re-release in June, which is pretty exciting. I'll also have an audio release, The Legend of Belladonna Part One: Natural Born Outlaws, writing as A.E. Stanton, coming from Graphic Audio. So, lots ahead for 2017 and beyond!
Gini Koch writes the fast, fresh and funny Alien/Katherine "Kitty" Katt series for DAW Books, the Necropolis Enforcement Files series, and the Martian Alliance Chronicles series. Touched by an Alien, Book 1 in the Alien series, was named by Booklist as one of the Top Ten Adult SF/F novels of 2010. Alien in the House, Book 7 in her long-running Alien series, won the RT Book Reviews Reviewer's Choice Award as the Best Futuristic Romance of 2013. Alien Nation, released in December 2016 and won the Preditors and Editors Readers' Poll for Best SF/F Novel of 2016. Book 15, Alien Education, will release in May 2017, with Book 16, Aliens Abroad, coming December 2017.
As G.J. Koch she writes the Alexander Outland series and she's made the most of multiple personality disorder by writing under a variety of other pen names as well, including Anita Ensal, Jemma Chase, A.E. Stanton, and J.C. Koch.
Gini also has stories featured in a variety of excellent anthologies, available now and upcoming, writing as Gini Koch, Anita Ensal, Jemma Chase, and J.C. Koch. Writing as A.E. Stanton, she will have an audio release, Natural Born Outlaws: The Legend of Belladonna Part 1, coming from Graphic Audio in 2017.
Gini is an in-demand speaker who panels regularly at San Diego Comic-Con, Phoenix Comicon, and the Tucson Festival of Books, among others. She's also been part of the faculty for the San Diego State University Writers Conference, Jambalaya Con, the Desert Dreams Writers Conference, and the James River Writers Conference, among others.
Prior to becoming a full time author, Gini spent over 25 years in marketing and advertising, first in small- to mid-sized direct marketing firms in Los Angeles, and then with IBM, and she was a social media maven before it was cool.
Reach her here: www.ginikoch.com, faceboook, and twitter
David Lee Summers. David is the author of more than thirty sci-fi and horror fiction novels and short stories including his latest horror novel THE ASTRONOMER'S CRYPT for Lachesis Publishing. Connect with David Lee Summers. online via facebook and twitter, and check out his web site.
Like our Lachesis Publishing page on facebook.
Follow Lachesis Publishing on twitter.