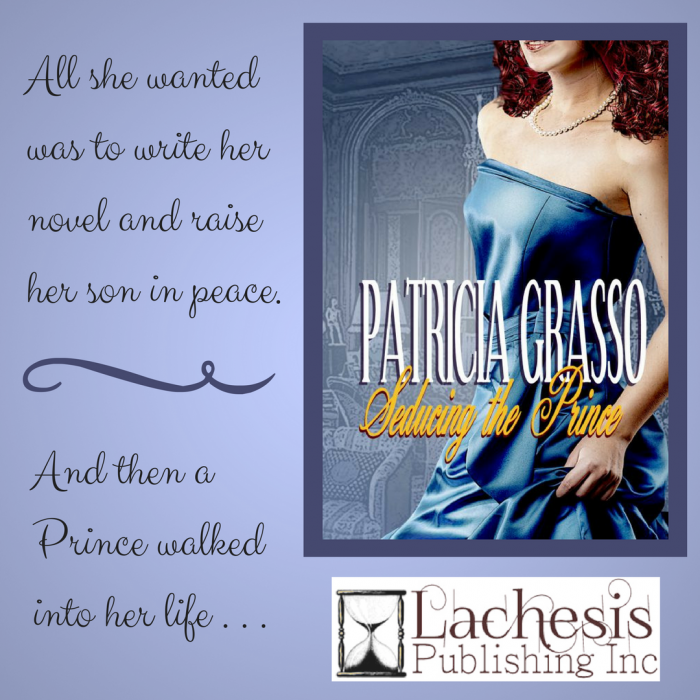 Our BOOK OF THE WEEK is the much anticipated revised re-release of SEDUCING THE PRINCE  by Patricia Grasso. A passionate Regency romance and Book 3 in the Kazanov Series.
Use promo code: ACSdonate  at the checkout and get 10% off the ebook and print book price (only here at Lachesis Publishing Inc.) Proceeds will be donated to the American Cancer Society.
All e-book formats available here! Click on this link to order.
WHAT IT'S ABOUT: 
She longs to soar
Regina Bradford, the Countess of Langley, did not get her "happily ever after". Her father, a wealthy business man, married her off to an impoverished earl to gain an aristocratic title for the family. Regina is miserable in her marriage to Charles, the Earl of Langley, who is cheating on her on with the blonde beauty, Princess Adele Kazanov. Regina is an aspiring author, and despite her husband's cruelty to her and his disdain for her writing, she is determined to finish her manuscript. She has resolved to living the rest of her life in a loveless marriage and spends most of her time with her beloved infant son, Austen, her best friend Ginger, her loyal butler Pickles, and her protective Great Dane, Hamlet. But when Regina meets the darkly handsome Prince Viktor Kazanov at a garden party, she yearns for more than a writing career: she yearns for true love as well.
He longs for freedom
Prince Viktor Kazanov wants a divorce. He is fed up with his wife Adele's adultery with the Earl of Langley, and her lack of love for their daughter, Sally. At the Duke of Inverary's annual retreat at his country estate, Viktor meets Regina and is immediately drawn to her wit, intelligence, and her fiery red-headed beauty. He decides then and there that he will begin divorce proceedings and free himself and his daughter from his cold-hearted wife. But when Adele and Charles are found murdered, suspicion turns to both Viktor and Regina, and the authorities seek to arrest them for the deaths of their spouses. It's a race against time as Regina and Viktor try to clear their names and avoid the hangman's noose. But when the killer strikes again, will they be destined for tragedy instead of happiness?
Patricia Grasso is the author of eighteen historical romances including the Douglas Series which follows the love stories of the amazing Douglas sisters (Angelica, Samantha and Victoria) in Regency London and the Lords of Stratford Series, Regency historical romances with a fairy-tale twist about the aristocratic families in Stratford-on-Avon. 
Patricia Grasso's latest release is SEDUCING THE PRINCE (a revised re-release in the Kazanov Series). You can purchase it at Lachesis Publishing. You can also get it on amazon, BN nook, or kobo. (Available for pre-order. Official release date is June 29th 2017.)
Connect with Patricia Grasso online on her web site and on facebook
Like our Lachesis Publishing page on facebook.
Follow us on twitter.