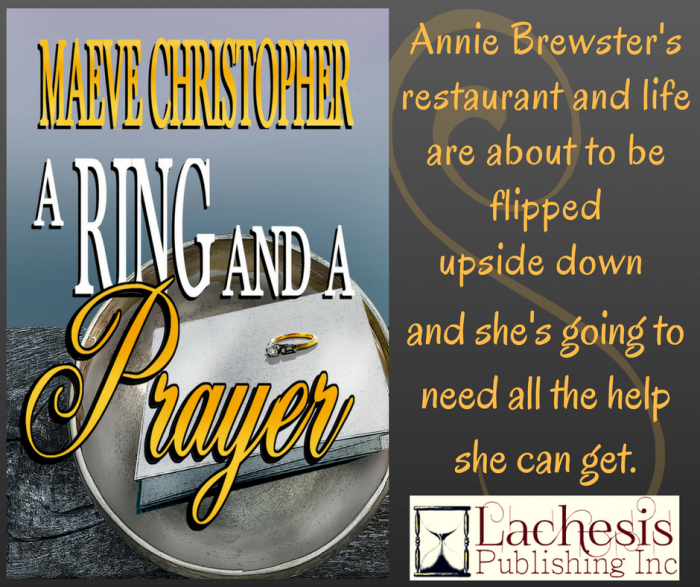 Lachesis Publishing Inc. is pleased to announce the brand new women's fiction/inspirational title: A RING AND A PRAYER by Maeve Christopher. It's the first book in a wonderful and heartwarming new series about a small town in Maine.
Annie Brewster has dedicated her life to helping others, but now she's going to need a little help of her own.
A beautiful gold bowl sits on a pedestal on the front porch of The Golden Bowl restaurant in Marberry, Maine, where patrons are invited to leave a prayer and take a prayer. Annie Brewster, the owner, has made it her life's mission to feed people both body and soul.
When her beloved husband Russ died ten years ago, Annie threw herself into making the restaurant a success—to the detriment of everything else in her life: her finances, her home, even her heart. Annie believes in prayer and in miracles too, and she's going to need plenty of both because her life is about to be turned upside down and inside out . . .
Ordinary people in extraordinary situations fuel Maeve Christopher's imagination. Keep asking "what if" and "why," and the plot thickens. What could be more fun?
Maeve's new series, The Golden Bowl, is set on the scenic coast of Maine. This unusual restaurant caters to the body, soul, and spirit. A large gold bowl on the front porch gives the establishment its name and invites patrons to leave a prayer and take a prayer. When they do: lives change.
Maeve lives in beautiful Massachusetts with too many characters and a number of messy subplots. She loves to hear from readers. Subscribe to Maeve's newsletter for exclusive content, contests, special offers, and more at  http://maevechristopher.com