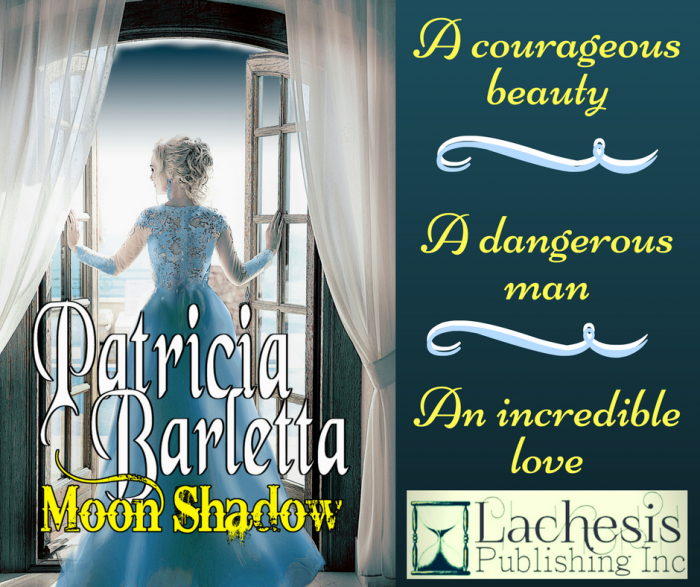 The LACHESIS PUBLISHING BOOK OF THE WEEK is the breathtaking historical paranormal romance MOON SHADOW by Patricia Barletta.
Get it at amazon, barnes and noble, kobo, and iBooks. You can also get it right here at Lachesis Publ
ishing (all formats) 
It's the second book in a compelling new series called the Auriano Curse. A hero and heroine you will absolutely love for their courage and passion. Patricia's first book in this series MOON DARK has recently won the Colorado Romance Writers Award of Excellence as well as the Gail Wilson Award of Excellence – Southern Magic.
What It's About:
Solange Delacroix is a woman of dark secrets. She steals for Le Chacal, the King of Thieves, and is the mistress of the powerful and cruel Marquis de Vernoux. Orphaned as a child, along with her younger brother Gide, her life revolves around protecting him and surviving among cut-throat killers and power-hungry schemers in post-revolutionary Paris. But everything changes when she steals a moonstone pendant from the handsome Duke of Auriano.
Antonio D'Este, Duke of Auriano harbors his own secrets. Cursed by the evil sorceress Nulkana, he's condemned to live half his life as Shadow. When a highwayman ambushes him and steals the magical moonstone that curbs the devastating effects of his family's curse, he is determined to find the thief and take back what is his. Attending a salon in Paris run by the ravishing Madame de Volonté, Solange's alias, he realizes she is the "boy" thief who stole from him. His need for revenge becomes entwined with desire for this beautiful woman.
Antonio and Solange come together in a dangerous dance of secrets, thievery, and passion. Hounded by the evil Nulkana, threatened by the ruthless King of Thieves, menaced by the cruel Marquis de Vernoux, their safety hangs in a precarious balance. Antonio seeks a piece of the magical Sphere of Astarte that will end his curse. Solange seeks freedom for herself and her brother. But when their quests turn deadly, will their love help them survive?
Find out more about Patricia Barletta and her books on her website: www.patriciabarletta.com.
Connect with Patricia Barletta on facebook: Patricia Barletta on facebook
Like our Lachesis Publishing page on facebook.