The good news is you joined a critique group. The bad news is you joined a critique group. Critique groups can help make your publishing dreams come true, or they can become your worst nightmare.
Some critique groups have seen all their members published by the Big 5 NY publishers. Others have ended in cat fights. Even worse, some groups have harmed an aspiring author's confidence and set their careers back.
No critique group is better than a bad critique group.
The Golden Rule is: Leave your ego home and take your manners with you.
The following are common sense suggestions for successful critique groups. The members must trust each other. Those critiquing must give honest reactions. Politely, of course. The writer must feel free to disregard those reactions.
Do not stay in a critique group that is not helping your writing improve. Do not stay in a critique group whose members are nasty and critical. If someone is not adhering to the agreed-upon rules, the person should be asked to leave the group.
The members must agree on practical items. How many times will they meet per month? Where will they meet? Will they bring pages or send electronically? How many pages will be critiqued?
Ideally, critique groups should have 4 or 5 members. The group needs a facilitator to keep the group on track. That means keeping the group working instead of socializing.
Do not expect all praise. The members should tell you what did and did not work for them. Members may offer suggestions and alternate views about something. That is their opinion.
There is no correct answer in writing. We only have what works and what doesn't work. You take what you want and trash the rest.
This is a tough one. Only one person speaks at a time. No interruptions are allowed. When the member critiquing is finished, the next one speaks. Meanwhile, the writer is taking notes on what is said. That prevents the writer from debating or explaining.
Recently, I critiqued chapter one and a synopsis for Lachesis author Claire Gem. I've attached her blog on this experience. Every writer who puts her work out there for critiquing should have as good an experience as Claire Gem.
The following excerpt is from Claire Gem's blog (Claire Gem aka Charlotte Daly – is also a Lachesis Publishing author. Her upcoming release with Lachesis is the contemporary romance "Memories of You":
It's really hard for writers to put our work out there, open it up to criticism from not only the public but also from fellow writers. .
Those criticisms you hear whizzing by your ears are not always projectiles of ill intent. Sometimes, they are sacred offerings. Nuggets of pure gold.
I had a 30-minute, private chat with best-selling historical romance author, Patricia Grasso, after our regional RWA meeting. This was a planned consultation following a sequence of emails. Basically, I asked for her help on my struggling work-in-progress. Pat was hesitant to share her "lots to say" about my synopsis and first chapter. She didn't want me sad or angry. After assuring her I would be fine, she agreed to sit down with me after the meeting.
I went with some trepidation. As soon as we sat down, she said, "You can use all, some or none of my suggestions. The book is yours so you make the final call."
Pat criticized my POV switches, highlighting the fact they were confusing to the reader. She suggested some major plot changes that I may or may not use. She pointed out chunks of backstory that need "to go."
"You remember that fairy tale where the little kid drops bread crumbs to mark his trail in the forest?" she asked.
"Hansel and Gretel." I said
"That's how you add your backstory," she said. "A few crumbs at a time."
She questioned my heroe's flaw. "Have you ever read a romance with a hero with this particular flaw?"
"Yes, I just finished a book by Lisa Kleypas and the hero had that flaw," I replied.
Pat regarded me for a moment and then said, "You aren't Lisa Kleypas ".
What I had anticipated as critical stones thrown on my work-in-progress began to sparkle like gems. I realized this wasn't an annihilation of my work. It was a diagnosis, by an experienced veteran of the romance genre, with a suggested plan of treatment.
"Here I love these lines," she said, pointing to two sentences on the page. "You have a flair for comedy. You need to play these up."
"I write contemporary romance with ghosts," I said. "Where is there room for comedy?"
"There are no rules that say you can't have humor in contemporary, even if there are ghosts." Pat sat back in her chair, tapping the pages. "This is your strength, the part of your voice you need to emphasize. Play up your strengths, down play your weaknesses."
Pat's comment couldn't have come at a better time. I almost heard the tumblers click into place inside my head. Breakthrough. . .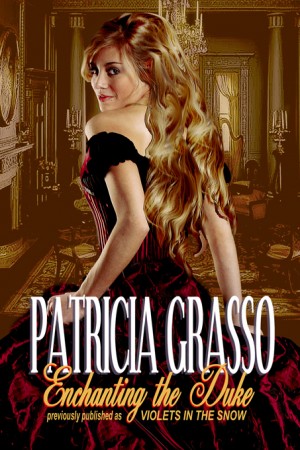 Patricia Grasso is the author of eighteen historical romances including the Douglas Series which follows the love stories of the amazing Douglas sisters (Angelica, Samantha and Victoria) in Regency London and the Lords of Stratford Series, Regency historical romances with a fairy-tale twist about the aristocratic families in Stratford-on-Avon. 
Patricia Grasso's latest release is Enchanting the Duke. You can purchase it at Lachesis Publishing or on amazon, BN nook, or kobo. 
Connect with Patricia Grasso online on her web site and on facebook
Like our Lachesis Publishing page on facebook.
Follow us on twitter.